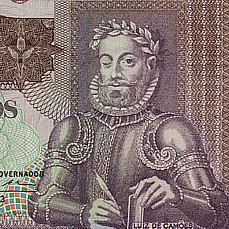 Luis de Camoes, Prince of the Portuguese Poets, has been compared to the likes of Virgil, Homer and Dante. Though he wrote an impressive amount of lyrical poems and dramatic works, he is main claim to fame was his Os Lusíadas (Sons of Lusas), begun in 1550, and published in 1571.
Born into the poverished aristocracy, his complicated lineage relates Luís Vaz de Camões to the Portuguese King Alphonso III (who lived from 1210 to 1279), the biblical King David, King Fernando III of Castile, and the famous explorer Vasco de Gama. His was educated by the Franciscans and the Jesuits, and around 18 years old, with the assistance of an uncle, he attended the University of Coimbra. In addition to Portuguese, he was able to read in Latin and Italian and wrote in Spanish.
A romantic and idealist, he reportedly had fell in love with Catherine of Ataíde, a lady-in-waiting to the Queen, and for whose love he celebrated in a sonnet Anagramático Natércia. He also has a passion for the Princess Maria, a sister of King John III of Portugal. These relationships, along with an unfavorable allusion to the king in his play El-Rei Seleuco are what caused him to be exiled from Lisbon in 1548.
For the next six months, he stayed with friends in Ribatejo province, and then he enlisted in the overseas militia. While in the militia, he lost his right eye in a battle with the Moors at Cueta (located on the Southern coast of the Straight of Gibraltar).
Returning to Lisbon in 1551, he attended the festival of Corpus Christi, where in a clutter, he injured by sword a member of the royal stables, and was subsequently imprisoned. His mother begged the royal family, and he was conditionally released. For his pardon, Camoes had to pay 4,000 reis and serve three more years in the overseas militia, serving in the orient.
In 1553 he set sail from Portugal on a six month voyage to Goa, located on the western coast of India. Even there, he found trouble and was briefly imprisoned for debt. Between 1553 and 1554 he fought in a battle on the Malabar Coast and in several skirmishes along trading routes. He helped uneducated crewmen write letters home, and when ashore, he would write publicly. At the end of his enlistment, he was promoted to Chief Warrant Officer and was stationed in Macau, where he was tasked with managing the properties of missing and deceased servicemen. While he was in Macau Luis de Camoes worked on his epic poem The Lusiads.
Finding trouble again, this time in charges of misappropriations, he packed his unfinished manuscript and Chinese lover, Dinamene, onboard a ship back to Goa to answer to the charges. During this voyage, the ship was wrecked along the Cambodian coast near the Mekong River. Though his lost his beloved Dinamene, he was able to save his almost finished epic poem by holding it up with one hand out of the water while he swam to shore. This poem was a tribute to the glory of Portugal, and was chiefly about the explorer Vasco de Gama and his expeditions to India and the West Indies to establish trade. He wrote several remembrances of Dinamene in lyrical prose. He spent some time in Cambodia before rescue and returning to Goa. In Goa, the charges were lodged against him, but as he had enemies, he also had friends. His admirer Peter Bareto, a captain of Mozambique, assisted him and he was able to escape these charges. He went with him to Mozambique where he put the finishing touches on his manuscript. While there, he also suffered much misfortune and became almost destitute. It was only by the assistance of friends that he was able to book passage home to Portugal.
Returning to Lisbon again in 1570, he published his poem The Lusiads in October 1571. A great success, he at last achieved fame. He was awarded a pension of 15,000 reis annually by the then king Sebastian for this work. In 1578 King Sebastian was killed in battle with the Spaniards at Alcácer Quibir in Morocco. When Camoes heard of this, the Spanish were approaching Lisbon, and Camoes wrote to the Spanish general: "All will see that so dear to me was my country that I was content to die not only in it but with it". When Camoes died on June 10th, 1580, he was 56 years old.
Though mainly remembered for his epic poems, Camoes wrote many, greatly varied, lyrical works as well. He wrote at least ten songs that were renowned for their psychological insight, and have been compared to Shakespeare, Donne and Wordsworth.