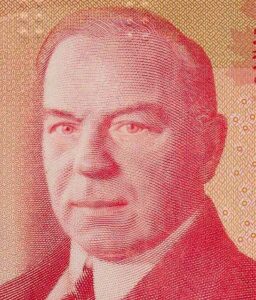 William Lyon Mackenzie King, most often referred to as Mackenzie King, was a Canadian politician who served his nation as Prime Minister from 1921–1926, then again in 1926–1930, and a third time from 1935–1948.
In his early years he was well educated in Toronto, then attended Harvard University in Massachusetts. In Chicago, Illinois he worked at Hull House, a settlement house (which is a social welfare aimed at neighborhood improvement as a whole) which would have a lasting impact. Though he never fully believed in socialism, he would implement social programs such as unemployment insurance.
His start in politics was slow, but ended up on top. In 1909 he became the first full-time minister of labour in Canada, but held it for only two years when elections changed ruling parties. In 1919 he became the leader of the Liberal Party due in large part to his stance on social reform without implementing socialism. In the 1921 election, the Liberal Party won, and Mackenzie King became Prime Minister of Canada for the first time. In 1925 the election turned out to be a stalemate between the liberal and Conservative parties, and yet Mackenzie King won a vote of confidence, and he served as Prime Minister of Canada again, but for only six months. Due to a scandal in the Canadian Customs Department, King resigned his position. His successor however wound up losing the government in only two days. The resulting election found Mackenzie King again Prime Minister of Canada. In 1930 King lost the election, but the country backed him once more in 1935 when he won by a landslide. Mackenzie King would serve as Prime Minister of Canada until 1948 when he retired.
Mackenzie King's role as Prime Minister through WWII and the reconstruction years afterward guaranteed his place as a great political leader in Canadian history. His government raised a mighty fighting force, overcame the conscription requirements, developed a massive wartime industry and bolstered the postwar economy. Through the war years and the prosperous time afterwards, Canada had evolved into a nation that was more independent from The United Kingdom, economically sound and confident in its role at home and world-wide.
Often described a lacking personality, his cold demeanor and lack of social graces did not endear him to the nation. While he had many party adherents, he had few friends, and was a lifelong bachelor. He kept his personal life quiet, and like Winston Churchill, Mackenzie King held strong beliefs in spiritualism, often employing a medium to keep in touch with his departed mother. He kept a detailed diary of his life that, after his death, revealed his inner self more than he ever did to anyone while alive. Despite his detractors who based his faults mainly on his personality, Mackenzie King turned out to be the right man for Canada at the right time, passing away from pneumonia only two years after his retirement from public service.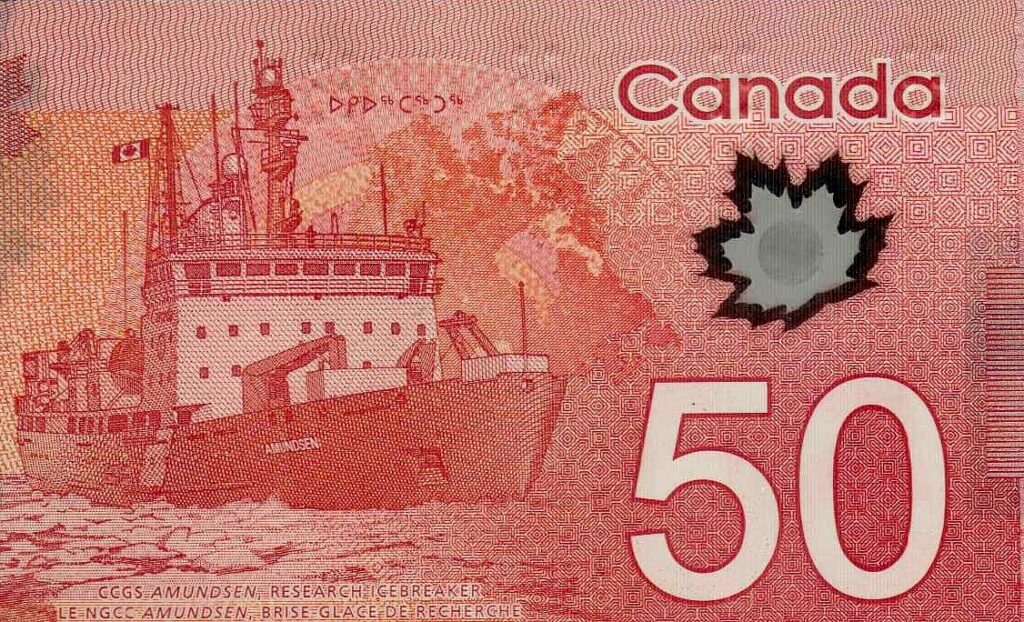 The 2014 issue of the Canadian 50 dollar banknote has been one of my favorites, with a great vignette of a Canadian Coast Guard Icebreaker. The note itself is red in color, matching the color scheme of the icebreaker fleet, which allows the ships to stand out in the arctic ice and the banknotes to stand out in a crowd of bills in your wallet.
The Canadian Coast Guard is a "special operating agency active within Fisheries and Oceans Canada". What that means is that the Canadian Coast Guard is a civilian agency, with no military or law enforcement duties. Law enforcement in Canada's territorial waters is done by the Royal Canadian Mounted Police. While it has no low enforcement or military duties, it is able to lend support to the military and the RCMP, as well as to Border Patrol and Fisheries officers by providing information and transportation when needed.
The primary duties of the Canadian Coast Guard is to provide a level of safety for watercraft and personnel within Canadian waters, protect the marine environments, and bolster the national economy in providing safe movement of maritime merchant vessels. A large part of that comes in the form of providing icebreakers to allow ships to transit the waters safely and efficiently. The icebreaker Amundsen is commemorated on the 50 Dollar banknote not only does that, but it is also the only Canadian Coast Guard icebreaker dedicated to a scientific role. All icebreakers are named after people who've sailed in the arctic waters in the past, and this one is named after Roald Amundsen, a famed polar explorer in the later 19th and early 20th centuries, who famously led the first expedition to transit the Northwest Passage, led the first Antarctic expedition to the South Pole, and though not the first person to reach the North Pole, he was the first person to fly over the North Pole. While exploration of the polar region may have been done before this ship was built, the Icebreaker Amundsen does not fall short in honoring the great polar explorer.
The CCGS Amundsen, based in Quebec, serves two seasonal roles. In the winter she serves as a traditional R-Class medium icebreaker, keeping the sea lanes open for shipping and providing rescue service when needed.  Her powerful engines allow a speed of 3 knots while breaking through ice floes up to one meter thick. In the summer months, the Amundsen is deployed into the Canadian Arctic waters to facilitate scientists as they conduct a wide array of scientific research. The ship is equipped with 12 laboratories, a multi-beam sounder, conference rooms, 3 acoustic wells which are used to monitor drilling conditions, and a moon pool, which is an opening in the base of the ship's hull, allowing access to the water by technicians in all weather conditions. The Amundsen can also host health surveys in northern communities of Canada and be transformed into a floating health clinic.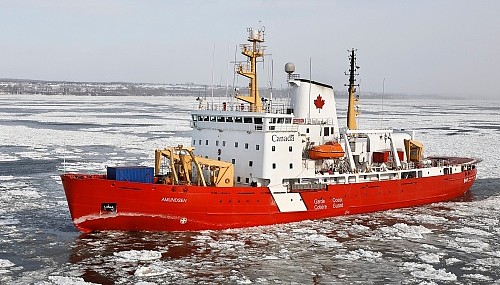 The Amundsen has revived scientific research in Canadian waters by giving access to arctic areas otherwise too remote and dangerous for researchers. Most scientific research is done by private sector scientists and can host up to 40 scientists at a time.
The ship was built in 1979 and was first named the John Franklin, where is plied the waters on the east coast and north arctic. It was eventually decommissioned in the year 2000. In 2002 there was a large scale proposal to refit the ship for scientific use and the Coast Guard, under the Fisheries and Oceans Canada, granted the request, and dedicated the ship for scientific research purposes. It was renamed CGCS Amundsen in 2003 and has been instrumental for a host of state of the art research projects.
In 2012, while undergoing refit for the ships engines, the Amundsen is chosen for the new 50-dollar Canadian banknote, honoring its significant achievements in providing a platform for arctic science to take place.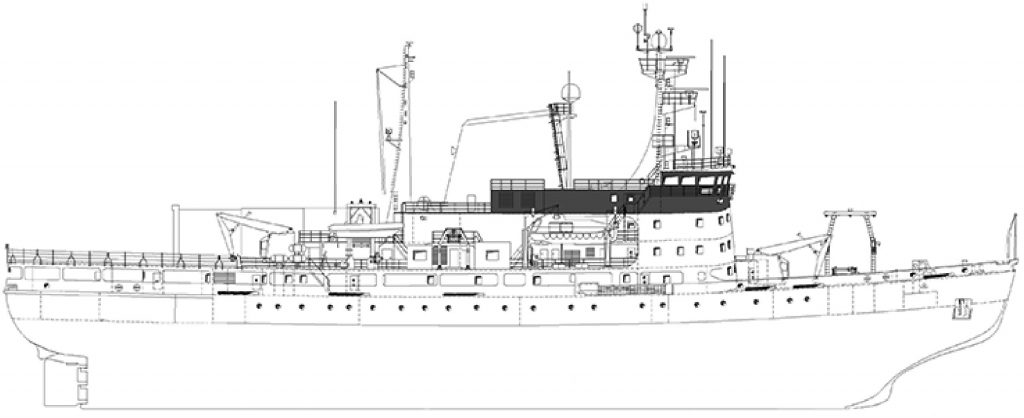 Vessel Class:  Medium Icebreaker
Home Region:  Central and Arctic
Home Port:  Que. – Québec
Vessel Status:  Active
Officers:  11
Crew:  20
Berths Available:  51
Builder:  Burrard Dry Dock Co. Ltd.
Build Material:  Steel
Owner:  Canadian Coast Guard
Year Launched:  1979
Length (m):  98.2
Breadth (m):  19.5
Draft (m):  7.2
Freeboard (m):  3.7
Gross Tonnage (t):  5911
Net Tonnage (t):  1678.8
Cruising Range (nm):  35000
Endurance (d):  100
Cruising Speed (kts):  14
Maximum Speed (kts):  16