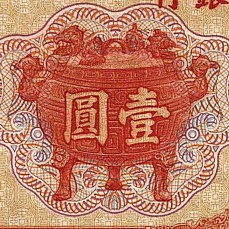 This Chinese 1 Yuan note from 1936 features a portrait of Sun Yat Sen, a revolutionary leader who became the president of the Republic of China after the revolution ended. As such, he is still thought of as the Father of the nation in parts of China. But perhaps a true father of China may be found on the back; one who had a greater impact on the psyche of the people: Confucius.
Seen travelling in his well-known chariots, Confucius is depicted conversing with a young child on the reverse vignette of this note. This vignette relates an interesting story about Confucius being taught a lesson by a child named Xiang Tuo (Shang Too-o). It seems that one fine day while Confucius was out riding his chariots with his followers, he encountered a child playing in the middle of a road. The chariots stopped and Confucius saw that the child was making a sand castle, and ordered the boy to move aside.
The child, Xiang, was precocious and said back to Confucius: "When does a castle make way for a chariot? All the while, chariots must go around the castle to get to the other side."
Confucius was amazed at the child's reply and, perhaps feeling a bit challenged, asked the child a few more questions.
Confucius asked "Which mountain has no rock?" 
Xaing answered "A sand mountain."
"Which body of water has no fish." 
"Water in a well has no fish in it."
"Which cow does not give birth?" 
"A cow made of mud."
"What type of man has no wife?" 
"An angel has no wife."
"What kind of woman has no husband?" 
"A fairy has no husband."
"Which city has no government officers?" 
"An empty castle."
Confucius was reported to be amazed at how this young child of 7 years age could be so wise. He decided to test the child further by playing a gambling game with him. The young Xiang refused and said: "A king who gambles will lead his kingdom into ruin. A farmer who gambles will lose his harvest. A student who gambles ignores his studies. I do not gamble. It is a useless activity – why should I learn?"
At this Confucius declared that the child was correct and that the young Xiang Luo was his teacher. He told his followers that even among three people, there will be a teacher, and that they must not be afraid to ask.