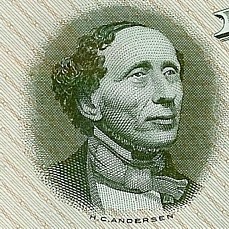 Hans Christian Andersen was born into poverty in Odense, Denmark on April 02, 1805. His father was a self educated shoemaker and his mother was a washer-woman. Hans' father doted on him and made him toy theaters, changeable pictures, and took him to plays. His father also took him to see his grandmother in a rest home, where he heard many folk tales that were furthered by his mother, who was said to be quite superstitious, and imbibed young Hans with countless tales. He was encouraged by his parents to write and to compose puppet theater shows. Sadly, his father died in 1816 when Hans was only 11 years old.
Hans was a tall child who had an effeminate appearance, and as such he became a nervous child who developed hysterical fits. His appearance was challenged once when he was a young man of  only 11 and working at a factory to help support his family: his trousers were pulled down to determine his gender, as the others though he was surely a young girl in disguise.
In 1819 Hans moved to Copenhagen to work in theater as a singer and actor until his voice began to change and he had to leave. This was to his benefit however as he had already been called a poet and he had decided to change careers to that of a writer. At 17 years old, Hans was taken in by Jonas Collin, the director of the Danish Royal Theater who granted Hans with scholarship to attend school. School, though necessary, was an unhappy time in his life, as he was housed with the headmaster, who took a disliking to him. Hans was much older than the other boys at the grammar school, making him at odds with the other children. His effeminate appearance and sensitivity added to the headmasters dislike. He endured this situation for seven years, and was then admitted into university in Copenhagen, where he was more at ease. It was at university that he wrote his first poem, "The Dying Child", and his acclaimed work "Fodreise Fra Holmens Kanal Til Ostpynten Af Amager" (Trans: A Walking Tour from Holmens Canal to Amager's East Point) a tale of a fictional journey. This work established him as a writer and cemented him in the field.
Another work titled "Phantasier og Skisser" (Trans: Fantasies and Sketches) was written after Hans fell in love with a lovely young woman named Riborg Voigt. She was however betrothed to another and was married away from Hans in 1831. Shortly afterwards Hans had two unrequited loves: Edvard Collin and his sister, Louise, the son and daughter of his benefactor. His love for Edvard would continue, but he would be rejected in love by both males and females throughout his life. After this he traveled widely around Europe, writing several pieces about his experiences. He also met with several prominent authors including Victor Hugo, Balzac, and Alexandre Dumas.
In 1835 he published his first fairy tale collection "Eventyr Fortalte for Born" (Trans: Fairy Tales for Children) in two volumes, based on folktales he was told as a child. Over the next ten years he would publish many more tales including the famous "The Little Mermaid", "The Emperor's New Clothes", "The Snow Queen" "The Little Match Girl" and "The Princess and the Pea". In 1838, during the midst of this writing, he was awarded a stipend of 400 rigsdaler per year by the Danish King.
It was also during this time of his life that he fell in love with Jenny Lind, a prominent Swedish Opera Singer, who herself is featured on a Swedish 50 Kronor banknote. Jenny could identify with "The Ugly Duckling" as she herself made such a transformation from a homely little girl into the musical star she became. But though he loved her, Jenny Lind only thought of him platonically and dismissed him in a letter in which she bade him 'farewell' and referred him as a 'brother'.
Hans continued to write and travel and in 1853 he published "A Poets Day Dream" which was dedicated to Charles Dickens, with whom he had an extended stay in 1847. Dickens achieved celebrity status throughout Europe and North America through his many writings, becoming best known for his fairy tales. He failed in love and acceptance from many people, but in his later years, he had several prominent friends, if not love.
Hans Christian Andersen died at the home of one of these friends in Copenhagen on August 04, 1875 from injuries sustained after falling from bed. When his fairy tales began to be more widely known, he was often requested to read in public. Hans was one of the first authors to read to the Danish Workers Association, which provided an honor guard for his funeral.
A pouch containing a letter to Hans from his first love, Riborg Voigt, was found around his neck when he died. When Edvard Collin died, he was buried next to Hans, but was moved several years later to the Collin's family plot.
Hans Christian Andersen is memorialized in print all over the world, and in Denmark there is a statue of The Little Mermaid in Copenhagen Harbor. In Shanghai, China, a theme park dedicated to his fairy tales was opened in 2006.He has been portrayed on Denmark's 10 Kroner banknote. The reverse of which displays a vignette of Egeskov Mill, built in 1855 and is now a museum.