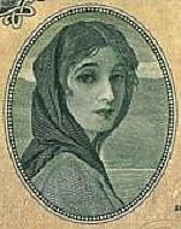 Lady Hazel Laverly was born Hazel Martyn in 1880 in Chicago, Illinois to Edward J. and Alice L. Martyn. Her father worked for the Armour and Company meat packing plant, where he started as a mere messenger boy, but rose in the company's ranks and became an executive manager. Hazel's younger sister Dorothea died young from anorexia. Hazel was voted by her peers as "The most beautiful girl in the Midwest".
She was married to Edward Livingston Trudeau Jr. in 1903. The marriage was not a long one, as Mr. Trudeau died five months later in 1904 of Tuberculosis; this despite the fact that his father Edward Trudeau Sr. was a famed tuberculosis specialist who had even set up the Adirondack Cottage Sanitarium specifically for the treatment of tuberculosis.
During her marriage to Edward Trudeau Jr., Hazel met John Laverly, whose first wife, Kathleen, had also died of Tuberculosis in 1891. John Laverly was a painter whose fame was propelled after his commission to paint Queen Victoria's state visit to the Glasgow International Exhibition in 1888. Hazel and John were married a few years later in 1909. During World War I he was an official artist but his military career was cut short when he was injured in a zeppelin bombing raid. John was knighted after the war, giving him the title of Sir John Lavery and giving Hazel the title of Lady Hazel Laverly.
Hazel was her husband's favorite subject to paint, and there are in excess of 400 paintings of Lady Hazel Laverly alone. Yet Sir Laverly was well known for his other portraits, so it was not out of the ordinary when Hazel and John asked the leaders of the Irish Republic delegation as well as the leaders of Britain to sit for him. What was out of the ordinary was that while they were being painted, Lady Hazel Laverly arranged private meetings with these members and hosted dinners with both sides present, at which the Laverlys mediated conversations concerning the independence of Ireland from British rule. These meetings resulted in the Anglo-Irish Treaty of 1921. Lady Hazel's charm and beauty, as well as her ability to entertain at dinners and help keep the peace at parties with opposing dignitaries, helped to bring about the Free Irish State sooner and, arguably more peacefully, than would otherwise have been possible.
Lady Hazel Laverly was also known for having rumored infidelities with both Kevin O'Higgins and Michael Collins, each of them prominent characters in the formation of the independent Irish Republic. These two men were each murdered for their political actions, and after their deaths, it is well known that Lady Hazel went into mourning and acted as a typical widow of the time. At the funeral of Kevin O'Higgins, she evidently even tried to throw herself into the grave. Even though these rumors were rife, Sir John Laverly remained a devoted husband.
After the formation of the Irish Free State, Sir John Laverly was commissioned to paint a portrait of a female allegorical figure representing Ireland. It should come as no surprise that this would be Lady Hazel Laverly. The reverse of these banknotes featured a historical personification of different rivers in Ireland, each denomination representing a different river. The banknotes which featured Lady Hazel Laverly were in circulation from 1928 through 1977.