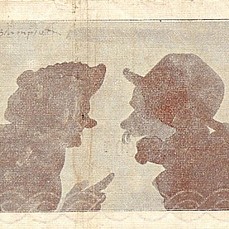 Historically the island of Jersey, officially The Bailiwick of Jersey, was part of the coast of Normandy, but rising sea levels cut it off and made it an island thousands of years ago. The island still remained attached politically to the Normandy coast, but in 1066 the Dukes of Normandy assumed the English crown and Normandy, along with the other Channel Islands, were all under English Rule. Then in 1259 England and France signed the Treaty of Paris, ending a conflict of disputed land between the two nations. As part of the treaty, England surrendered Normandy but kept the Channel Islands. This treaty, however, is often listed as one of the causes of the 100 years' war.
Jersey and the other islands then became a self-governing territory under England, and remain self-governing, with certain autonomous abilities such as maintaining a separate legal and financial systems. Jersey used the French Livre as currency until the Pound Sterling was adopted in 1834. Many entities on the island issued their own banknotes until 1831, when only governmental notes issued by parishes were allowed. These note issuances stopped around 1890.
As they were in close proximity of the French coastline During World War II the Channel Islands were occupied by Germany. Jersey quickly underwent a shortage of its coins during the occupation, and the German forces eventually authorized the issuance of banknotes on the island. This series included notes of 6 pence (6d), 1, 2, and 10 shillings (10/–), and 1 pound (£1).  These notes were designed by the illustrator Edmund Blampied, a native of Jersey.   
Blampied's artwork was noticed at an early age, and he attended art schools both in Jersey and later in England. He stated etching in 1909 and soon became a prominent etching artist, showing his first solo exhibition in 1920, and a New York exhibition in 1922. Around this time Blampied began studying lithography, and soon began to show his works in that medium as well. He received several awards for his showings, including a gold medal at the 1925 Paris Exhibition.
Blampied continued his contributions to book publishers, where he illustrated for many prominent authors. He even submitted some political satire cartoons for magazines. It was his work as a political cartoonist that would enable him to continue working as an artist through the Great Depression.  In 1938 Blampied enjoyed two honors. He was inducted into the Royal Society of British Artists, and was also commissioned to illustrate a new release of a Peter Pan novel titled: Peter and Wendy. It is still one of the best illustrated versions of that title.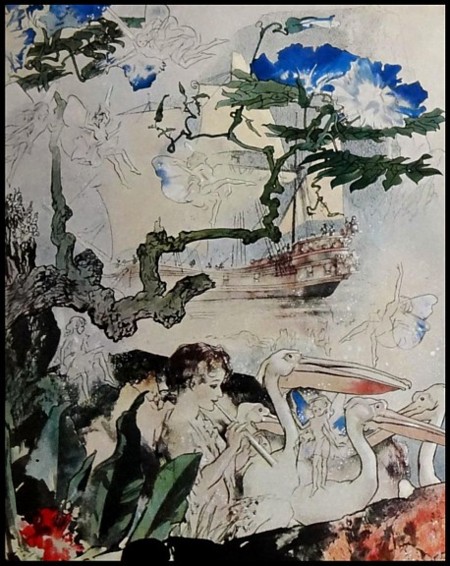 Enjoying his newest successes, Blampied and his wife had moved back to Jersey to live full time. Despite his wife's Jewish heritage, they decided not to leave the island before the German occupation, even though they had opportunity. Luckily, she was not one of the people of Jewish heritage who had been targeted by the Nazis during the occupation. Throughout the 5 year occupation, Blampied had lost all contact with his business partners in England, and he had trouble making due with the limited resources the island had for supplies. Still, an opportunity presented itself for him to make a name once again as an artist, even in this dire situation.
As a result of the occupation, a currency shortage on the Island of Jersey was making it difficult to conduct financial transactions. Most coinage disappeared and there was a need to issue some new form of currency. Only 14 miles away was the French Mainland, but even so, French currency was not used as a supplement during the occupation. Instead, the German authorities agreed to have a series of banknotes issued and chose Edmund Blampied to design them.  
Blampied's designs incorporated some of his typical styles, including two caricatures on the 1 Shilling note.  His six-pence note has some hidden iconography in it. Blampied later admitted that in his design, the letter "X" in Six can, if folded correctly, produce the letter V for Victory, a popular wartime symbol. Though he did not admit it, the prominent "X" can also be interpreted as a symbol for Jersey, which incorporates a red cross on a white flag. It may seem odd, but there was no official flag of Jersey until 1979, when they formally adopted the flag with a red cross on a white field, along with the red crest with three leopards.  The use of the flag gained popularity under the German Occupation of World War II as displaying the Union Flag was not allowed. Heraldic symbols of Jersey, such as the red crest with three leopards, were allowed use in many aspects, but public buildings were forced to fly the Nazi flag.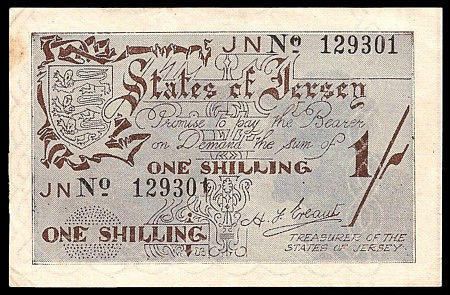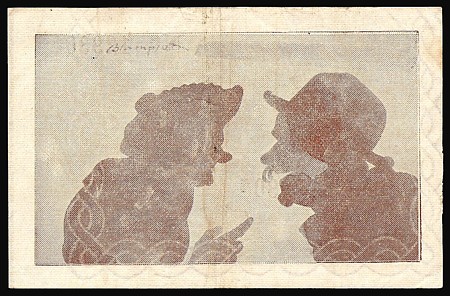 The following was the issuing schedule for each denomination of Blampied's banknotes:
6d notes (840,000) 6 issues April & June 1942, January, May & October 1943 and Feb 1945
1/­ notes (200,000) 2 issues April & June 1942
2/­ notes (50,000) 1 issue April 1942
10/­ notes (26,000) 2 issues April & June 1942
£1 notes (11,000) 2 issues April & June 1942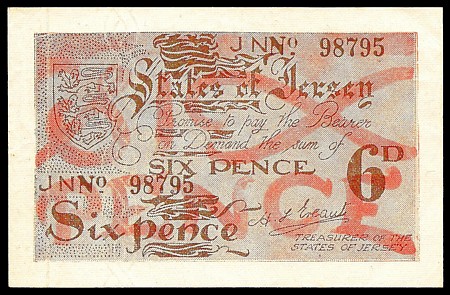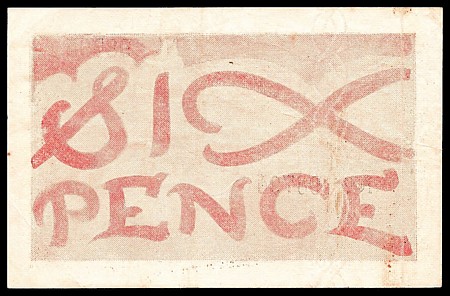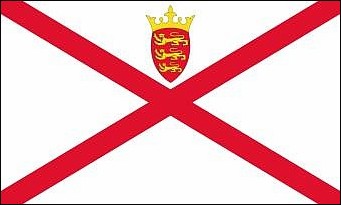 A successful issue of these notes led the Germans to have Blampied design a set of local stamps for the islanders to use. Like his banknote designs, Blampied also placed a small stylized design on the 3 Pence stamp that was immediately recognizable to the locals as a GR, or Georgius Rex, which was the Royal monogram of King George VI. 
One of the last places to obtain liberation from the German Occupation was the Channel Islands, On 9 May, 1944. Though the Germans may have figured out these design elements, they were never addressed in any way, and they all served their purpose until the end of the war. Once liberated, Jersey Islanders stopped using the occupation notes designed by Blampied and resumed their previous currency use.
Today, Blampied's stamps and banknotes from the Bailliwick of Jersey are some of the most collectible items of Jersey's wartime past.