Kurmangazy Sagyrbayuly 
1823-1896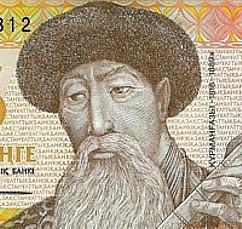 A  musician, poet, composer, and continuing inspiration after his death over a century ago, the Kazah Bard, Kurmangazy Sagyrbayuly, is still a prominent fixture in Kazakh classical and folk music.
Given that the life on the Steppes was nomadic and records at that time were not as detailed and had to rely on a largely illiterate population for their reports, it is not surprising that his early life is a bit murky on the details, with his birth year being reported from 1806 by some sources to as late as 1823, with most sources citing it as 1818. However, after studies by the Academy of Sciences in Kazakhstan, it was determined that he was born in 1823 and died in 1896. Despite which date you choose to believe, he was in fact born in the Bokeyev Horde, which at the time was a type of Russian dependency, in an area between the Volga and Ural Rivers called the Orenburg Steppe.
Kurmangazy was born into the nomadic lifestyle of the steppe, yet was reported to have begun playing the dombra as a young boy. The Dombra (or Dombyra) is a two stringed guitar-like instrument played by plucking and strumming. The Dombra is an ancient instrument that has been found in cave paintings that were dated to be at least 4,000 years old. The instrument has always been with the people in the Kazakhstan area, and is the primary instrument of Kazakh culture. Despite his mother's fostering of his musical talents at his young age, hard times befell the family and Kurmangazy, at only six years old, was given to a group of shepherds to look after him. He stayed with the shepherds until he was 18 years old, and continued playing the Dombra while growing up working with and being looked after the shepherds.  Life as a  shepherd allowed him to spend some of his time listening to the music of the people and playing along with them practicing his dobra playing, learning many kui's.
A Kui is an instrumental musical composition that is normally played with wind and stringed instruments, though mostly played with the dombra. Kui's are deeply rooted in the Kazakh  culture and throughout the steppes. Through them are heard the history and experiences of their ancestors. Nomadic life on the steppes was never an easy one, and oral histories were transmitted through kuis. As a result, they became a part of the culture and tradition that has held on to this day.
When Kurmangazy was still under the care of the shepherds, a famous musician and dombra player called Uzak visited his village. Of course Kurmangazy attended his performance, and was very impressed with Uzak's playing. Uzak noticed the youngster's appreciation and gave Kurmangazy his first professional lesson on the dombra.
Sometime during his 18th year, Kurmangazy left the care of the shepherds and started out as a wandering Kuishi, or a type of minstrel or bard. During his wanderings, Kurmangazy was able to hone his skills and techniques of playing the dombra, and was on his way to being a great musician. A large part of his experience was meeting other musicians, singers, and story tellers. His learning from these fellow musicians helped him to broaden his style and learn the techniques and subtleties of a master. Before long, Kurmangazy had begun to make a name for himself as a Kuishi, and he was known throughout the area.
When Kurmangazy played and sang, often telling stories as well, he was able to evoke the sense of the people, the breadth of the steppe, and the spirit of the horses. But he was also a bit of a social and political activist with his playing, commenting on the inequality his people experienced with the ruling class, and questioning and criticizing the leaders. His popularity began to soar and it was noticed with a critical eye by the political elite who, in an attempt to silence him, charged Kurmangazy with the crime of horse thievery. Kurmangazy fled, but was soon caught and sent to prison across the border in Orenburg, Russia. The prison is still in operation today and, known as the Black Dolphin Prison, contains some of the most serious offenders. It is the oldest prison in Russia, but in Kurmangazy's day, it wasn't a maximum security prison, just a prison for robbers in general.
While he was down on his luck, Kurmangazy was helped by a friend in the government, Vasily Alekseevich Perovsky, who was the appointed military governor of Orenburg. With Perovsky's influence, Kurmangazy was soon out of prison and again embarked on his musical wanderings. He travelled throughout the Kazakh Steppes, meeting and performing with many influential people within the sphere of performance arts of the region.
In 1880, he settled down and for his remaining years, Kurmangazy lived in the Astrakhan Oblast, where the Volga empties into North-West corner of the Caspian Sea. He stayed amongst his friends and fellow musicians, grew his long and prominent beard, played his dombra and taught students as well. His beard became so long in his later years that he was reported as having to brush it over his shoulder before he could play the dombra. Kurmangazy passed away in 1889, and is buried in Atyrau (formerly Guriev).  In his life he composed over 60 Kui's and has remained not only an inspiration to traditional Kazakh musicians, but to the populace as a whole for his evocative music and political and social criticisms in the past. His music is still held to represent the identity of the people and the land of Kazakhstan, and his kui's are still played and enjoyed not only in Kazakhstan, but the world over.
To celebrate the 200th birthday of Kurmangazy in 2018, the city of Oral, (Formerly Uralsk) in the Western Kazakhstan region held events in which approximately 1,500 dombra players performed "Balbyrauyn" and "Adai", kuis composed by Kurmangazy. Many posthumous honors have been bestowed to him, including The Kazakh National Conservatory bearing his name, and appearing on the country's currency. Kurmangazy's  mausoleum is also shown on the back of the note below.