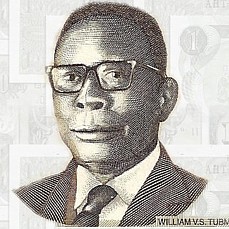 William Vacanarat Shadrach Tubman was to become the President of Liberia in 1944 and served for 27 years in that capacity , even surviving an assassination attempt in 1955, until his death on July 23, 1971.  Liberia saw much change in its history, but most of it occurred during President Tubman's rule.
Born on the 29th of November 1895, William Vacanarat Shadrach Tubman was born in the town of Harper, Liberia, the grandson of William Shadrach Tubman, and Sylvia A. E. Tubman, who were two of 69 slaves that were freed and gained transport to Liberia in 1844 by their owner Emily Harvie Thomas Tubman (1794-1885). Emily Tubman's husband, Richard, wanted his slaves freed after his death. Emily Tubman saw her husband's wishes to free his slaves were carried out. William Tubman's mother, Elizabeth Tubman also came to Liberia from Atlanta, Georgia. They were part of the American Colonization Society, founded in 1817, which established colonies in Liberia for the emigration of free-born African Americans and emancipated slaves who wished to return to Africa.
William Tubman's father was a military and political man as well as a Methodist preacher. William Tubman followed in his father's steps. In 1910 he enlisted in the army at the young age of 15, eventually obtaining an officer's commission. He graduated St. Palmas Seminary in 1913, yet refused to take his ordination vows, telling his bishop that he couldn't because he knew he would continue to drink and smoke. He then studied law and in 1921 he became Liberia's youngest senator at age 26. He maintained status as a lay minister of the Methodist Church and in 1928 he traveled to the Quadrennial Conference of the Methodist Church in Kansas City.
Tubman was successful in renewing policies from his predecessors and making them his own. He revamped the works of Arthur Barclay and created the 'National Unification Policy', which aimed at bringing the indigenous tribes and the 'colonists' from America together. Tubman's believed that Liberia needed foreign aid in order to help develop the country, and his 'Open Door Policy' was a spin on opening the country to foreign investments that was made by Edwin Barclay, who served as Liberia's president immediately before Tubman. He believed that Liberia was at a disadvantage from those countries which were colonized and had received infrastructure from the colonizing countries. He was elected President in 1943 and immediately declared war on Nazi Germany, gaining the support of the United States, which helped build the Port of Monrovia, which is a major economic center to this day. After World War II, Tubman's emphasis on education was enhanced and the University of Liberia was established. Several teacher training centers were also established throughout Liberia in order to bring quality education to schools throughout the country. Agricultural centers were started throughout the country in order to train people in modern farming and ranching techniques. Tubman's life was at risk in 1955 when an assassin from political rivals failed in an attempt to shoot him.
Revered by some and hated by others, Tubman's policies steered Liberia through the 20th Century, bringing success to the national economy, well past his lifetime. Through the 1950's, Liberia's economic growth was the second fastest in the world. Their merchant shipping fleet grew to be the worlds largest, as was their rubber plantations, and its mining operations made them a world leader in the Iron Ore business.
Yet there is always danger waiting in the wings. Rival political parties placed poorly qualified Samuel Doe into the presidential office. Then a breakdown of national unity brought civil war and the terrible dictatorship of Charles Taylor in the 1990's. This wrecked havoc on the national economy, and ravaged the people.