J. Zemaite – aka – Julija Beniuseviciute
aka – Zymantiene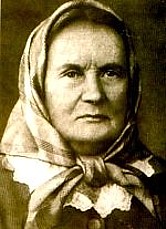 Julija Beniuseviciute – Zymantiene was born near the city of Plunge on in Count Plioteris' estate in Bukante in Lithuania in 1845; she became known simply by her pen-name, Zemaite. Her parents were poorer nobles who considered the Lithuanian language to be socially inappropriate after being subjected to the Polish culture. As such, her parents disallowed her to be friends with children of the serfs. As a child, Zemaite did not listen to her parent's wishes and she learned the Lithuanian language through forbidden friendships with serfs.
Her education was received from her father and other relatives and through reading books instead of attending public school. She supported the uprising of Russian rule in 1863, and later married an active participant, Laurynas Zymantas. Her husband was a former serf who had no land and their life was hard.  In 1885 she recovered from this hard life when she moved to her brother's house in Usnenai where she was exposed to magazines such as Ausra, Varpas and Apzvalga. While in Usnenai, she met Poyilas Visinskis who taught her of the goals of the Lithuanian National Movement.
Recognizing her talent as a writer, he also urged her to write in the Lithuanian Language. At the age of 49 her first work was titled Autumn Evening and was published in 1894. Poyilas Visinskis and Jonas Jablonskis (who is depicted on the Lithuanian 5 Litas banknote) helped her to edit her works and foster her talents.
Relocating to Vilnius in 1911, she worked as an editor of two periodicals The News of Lithuania and The Morning Star, and was active in the Lithuanian cultural scene. When the Germans occupied Vilnius in 1915, she moved to Petrograd, Russia and while there she helped other Lithuanian refugees. In 1916 she continued on to the USA, where her son Antanas had been living for some years. In the USA, she became active in Lithuanian-American communities and collected funds for Lithuanian people affected by the war. In 1921, she returned to Lithuania where shortly afterwards she died and was buried in the city of Marijampole. A Museum was set up at her childhood home in 1966.
Her writings were greatly influenced by her experience as a poor peasant and the experiences that came with this position, focusing on peasant strife, their family life and personal interactions with each other. They deal with such things as how people struggled after Lithuania ended serfdom, national oppression, cultural identity, and the struggle for making a better life for themselves. Her works serve as an encyclopedia of peasant life in turn of the century Lithuania. As such, she is best known for her starting the Lithuanian realistic prose. Before her writing, most Lithuanian writings were poetry and instructional works. Her best stories are considered to be Daughter in Law, Petras Kurmelis, The Devils Wedding, The Devils Funeral, Sutkai, A Good Head.