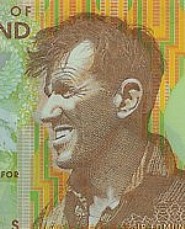 Edmund Percival Hillary was born in Aukland, New Zealand in 1919 to Percival and Gertrude Hillary. His father was a beekeeper and moved the family a short distance to the town of Tuakau, where Edmund would spend his youth. He had one of those long treks to and from school that one hears about from their elders, having to travel two hours each way, albeit by train. He spent the long hours travelling immersed in schoolwork and reading. Edmund had been helping out with his father's beekeeping, and it seemed that he would be following in his father's footsteps in this occupation. But at age 16 a school trip to Mount Ruapehu, the largest active volcano in New Zealand with 18 glaciers, ignited his spark for climbing and adventure
In 1939 Edmund made his first climb when he summited Mount Oliver on New Zealand's South Island. This was only his first climb, a hobby really, and as it wouldn't pay the bills, he had to have a job. So after college Edmund and his brother, Rex, continued to work with their father in the family beekeeping business. Beekeeping is a seasonal occupation, and that left the wintry off-season open for more climbing.
This period of his life did not last long. World War II broke out, and Edmund joined the Royal New Zealand Air Force. He spent time in the South Pacific and while deployed suffered greatly from a burn injury in a fire in 1945.
When WWII had ended and he had recovered from his burns, Edmund picked up with his climbing again. In 1948 Edmund booked Harry Ayers, at the time the best climber in New Zealand, to guide him up Mount Cook, New Zealand's highest peak, located on the South Island. In 1949 Hillary travelled to Europe and climbed in the Austrian and Swiss Alps, honing his skills, and meeting international climbers.
In 1951 Edmund joined a reconnaissance expedition to Mt. Everest. This expedition was led by Eric Shipton, who on this trip found what was declared to be the famous Yeti footprints. He described these prints as being larger than prints left by his climbing boots, and having three toes plus a thumb on the side. They tracked the prints across a crevasse where they saw that the "Yeti" jumped the void and had apparently grabbed on to the other side with the toes.
In 1952 Edmund was part of a team that made a reconnaissance trip to the Himalayan mountain Cho Oyu on the China-Nepal border. Cho Oyu is the sixth highest mountain in the world, and only 20 kilometers from Mt Everest. In 1953 Edmund Hillary accepted an invitation from the 'Joint Himalayan Committee' to join the British attempt to climb Everest. Hillary accepted readily, and his friend Eric Shipton was named as the expedition's leader. But soon afterwards, doubts as to Sharpton's leadership capabilities arose, and the Himalayan Committee informed Shipton that the Everest Expedition was of national importance and that it was in need of a leader with dynamic personality, drive and enthusiasm, and thus demoted Shipton and appointed John Hunt as the expedition's leader. In response, Edmund Hillary was prepared to quit the expedition. But both John Hunt and Eric Shipton convinced him to remain in the party.  
The 1953 Everest expedition was a very large group of 400 men, 382 of them were porters and guides. Hunt had placed Edmund Hillary on a team with Tenzing Norgay, a young Nepalese mountaineer who had been on several climbs around Mt. Everest before.
When the expedition had made its way up to the top of the South peak in May, several climbers made the attempt to summit Everest. All were turned back due to exhaustion or equipment failure. Eventually it came time for Hunt to give Edmund Hillary and Tenzing Norgay the orders to go ahead and try their turn to make the summit.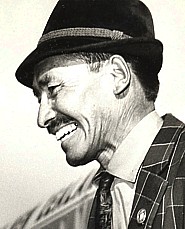 Weather delayed their attempt for two days, and on May 28th they started their climb. They spent the day hiking up and camped at 27,900 feet. On May 29, 1953, after a five and a half hour climb, they were the first two people to summit Mount Everest, 29,028 feet above sea level, the highest mountain peak in the world. Spending only about 15 minutes on top of the world, they made their descent, to be greeted by a member of the party bringing them hot soup.
On return to England, John Hunt, the leader of the expedition, and Edmund Hillary were knighted. Tenzing Norgay, who was not a British subject, was not knighted, but did receive the George Medal from Queen Elizabeth II, as did the other members of the climbing party. Tenzing Norgay was also honored with the Order of the Star of Nepal – First Class, presented by the Nepalese King Tribhuvan.
Now knighted, Sir Edmund Hillary continued to climb and explore. He married Louise Mary Rose in September of 1953, and during their happy marriage they had three children. Over the next decade he made several more climbs in the Himalayas, and in 1958 even made the first mechanized trek to the South Pole, representing New Zealand on an international team.
In 1960 Sir Edmund Hillary made an attempt to search for proof of the yeti. Footprints were found, but as they tracked the prints, it became apparent that while in the shaded areas, they were of a small mammal with four toes, and in the sunnier areas where the snow had melted more the prints were larger and presented a more monstrous appearance. He declared the Yeti improbable.
Sir Edmund Hillary's travels in Nepal made him more and more aware of the needs of these people. On one of his visits, he asked a Sherpa what he could do to help the Nepalese. The Sherpa answered that their children needed education and asked for a school.  So Sir Edmund Hillary began the Himalayan Trust organization which opened a school in the village of Khumjung in 1960. Ever since, the Himalayan trust has been providing services in education, but has also branched off into health services, infrastructure development, land preservation and much more. In 1975 while working on creating a hospital in Nepal, his wife Louise and youngest daughter Belinda were killed in a plane crash while travelling to join him. As the years passed, he continued his exploration, leading an expedition in 1977 up the Ganges River 1,500 miles to its source in the Himalayas. He wrote a book on the trek titled "From the Ocean to the Sky."
In 1985 he flew in a ski-plane with astronaut Neil Armstrong, landing at the North Pole. This was a type of fundraising venture for Pat Morrow and Martyn Williams for an expedition to Vinson Massif, the tallest mountain in Antarctica. From 1985-1989 Sir Edmund Hillary served in the position of New Zealand's High commissioner to India, a position similar to ambassador, existing between British Commonwealth nations. He remarried in 1989 to June Mulgrew, a longtime friend and widow of a climbing partner Peter Mulgrew, who had accompanied him to Antarctica. They were married at his home in Auckland, New Zealand.
Of all his accomplishments, his most famous one was his climb on Mt. Everest. Since 1992 he has been honored by his portrait on the New Zealand five dollar banknote. The mountain on the banknote is not Mt. Everest, but Mt. Cook, which, surprisingly, Sir Edmund Hillary said was his favorite mountain. Also pictured is a Massey Fergusson tractor, the kind that he drove to the South Pole in 1958 with Peter Mulgrew. Sir Edmund Hillary passed away on January 11, 2008 from a heart attack. When asked in an interview by the Academy of Achievement in 1991 why he chose to climb Everest, Hillary replied: " I never had a vision to climb Mt. Everest. As with everything else, it just more or less grew. I started in the New Zealand Alps and I got more competent… it really wasn't until we read in the paper that the British had got permission to do a reconnaissance to the south side of Mt. Everest through Nepal which, up until those days, had been completely closed to foreigners." It was then that he got the idea that, "Gee it would be fun to go along on that reconnaissance."