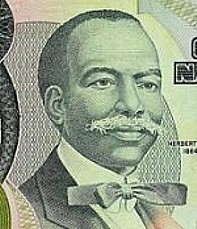 His Grandfather was Samuel Ajayi Crowther who was the first African Anglican bishop in Nigeria. He was also the son of Reverend Thomas Babington Macaulay, who was a leading missionary and educator in Lagos, Nigeria. Lagos is the most populous city in Nigeria and one of the largest in the African Continent. The city of Lagos is large metropolitan area spread along the Nigerian coastline.
A political Leader, Musician and journalist, one of Herbert Macaulay's first jobs was as a clerk in the Public Works Sector in Lagos, Nigeria in 1891. In 1890 he was awarded a government scholarship in civil engineering, and from 1891-1894 he studied in England.
Upon his return to Lagos, he worked as a surveyor for the British Government Colony of Lagos until leaving in 1898 due to an evident growing dislike of Lagos being a Crown Colony and racist attitudes of the British administrators in Lagos.
After resigning his public post as a surveyor, he worked as a private surveyor and a journalist and in eventually became the editor in chief of a political newspaper, the Lagos Daily News. Herbert Macaulay was arrested twice for writing articles criticizing the Colonial Government. Macaulay opposed almost every attempt by the Crown to increase their hold on Lagos and the surrounding region in Nigeria.
As a result of his Anti Colonialism works, he became well known in the local political movement in Lagos and was sent to England by the King of Lagos, Oba Esugbayi Eleko, as a representative in a land dispute. While in London Macaulay attempted to assert the authority of Oba Esugbayi Eleko. While this did not persuade the Crown to return lands to Oba Esugbayi Eleko, the British did appoint Macaulay as a representative for the rights of local leaders in Lagos.
About 1923, Macaulay founded the first local Lagos political party the Nigerian National Democratic Party, which advocated an independent Lagos government, higher education with compulsory primary education attendance, and nondiscrimination practices.
While primarily concerned with politics in Lagos, his activities eventually led to a movement of independence throughout Nigeria after he held a meeting among students who later formed the first national political party in Nigeria, the National Council of Nigeria and the Cameroons (NCNC). Macaulay retained the position of secretary general in the NCNC until his death in 1946.
Nigeria became politically independent on October 1, 1960, after about seven decades of colonial rule by the British. Alhaji Abubakar Tafawa Balewa was elected as the Prime Minister, his Northern People's Party governing in coalition with Herbert Macaulay's Nigerian National Council. Presidential elections were held in 1963. The Federal Republic of Nigeria is declared on October 1, 1963. Nnamdi Azikiwe was the first elected president.
Herbert Macaulay's portrait adorned Nigeria's One Naira currency note from 1979 –1984. This denomination was replaced with a One Naira coin.