Pearl Monument
1 Riyal 2020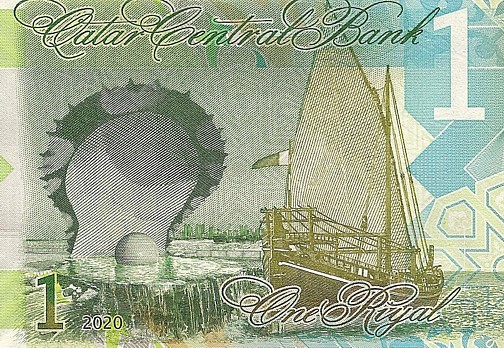 The Qatar 1 Riyal issued in 2020 has been redesigned and shows a predominately green and white geometrical design. The main illustrations on the front include the entrance gate to the State Mosque in Doha, Qatar. The reverse images include a traditional sailing vessel called a dhow, and a giant monument of a Pearl Oyster.
Since the late 1930's Qatar has been well known for its oil production, but long before that it was largely dependent on the pearl harvest for its economy. Pearl divers are perhaps more commonly known in East Asian waters, where divers would risk the perils of the sea, especially a lack of air, and free dive to make their harvests. During its pearling heydays Qatar was a hotspot for pearls. In fact, back in those days, more than 75% of the Persian Gulf exports were pearls, much of it in and around Qatar.
The Dhow's origin is a mystery, but many think it was invented in India before 600 AD. Their long, slender hulls made them good trading vessels for trade along coast-lines, but they have been used for many purposes, including pearl diving. Dhows typically have two identifying aspects: Their triangular shaped sail, and their hulls, which are stitched together with cords.
Luckily for Qatar (and much of the middle east), just when Japan started to farm oysters commercially, causing a decrease in the price of pearls worldwide, Qatar was able to switch to oil production, which was a more than adequate replacement for the pearl harvest.
The Pearl monument is actually a fountain, located near Dhow harbor. Most of the reviews of the site declare it a nice monument, but with nothing else around it of interest. It has been recommended that a nighttime observance of the monument is best as it is more attractive with the artistic lighting and dark skies.
This 1 Riyal note from 2020 is part of a whole set of banknotes issued by Qatar that year. They are printed by De la Rue in London, England using the intaglio method on cotton fiber paper. It has a host of security features, but the most distinctive feature on the front includes the SPARK brand orbital design on a green flower.