Dr. John Garang De Mabior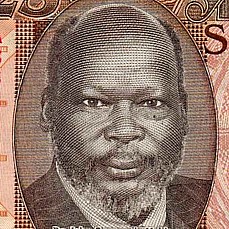 John Garang was born on June 23, 1945, in Buk Village, Jonglei State in Sudan's Upper Nile region. He was the sixth child of his father, Mabior Atem Aroy and mother, Gak Malwal Kuol. John Garang was a member of the Dinka tribe, whose people were mainly cattle herders and millet farmers. By the age of 10, both of his parents had died, yet thanks to relatives, was able to continue his schooling. He attended schools in the city of Tonj in central Sudan, then the city of Wau, along the Jur River, and also in Rumbeck, in South-Central Sudan.
It was during this time of his life that the first Sudanese Civil War broke out. Up until 1946, Sudan was administered by Britain and Egypt in two parts: the Northern, which is primarily Muslim, and Southern which is primarily Christian and Animist (a belief that spirits inhabit all natural objects, including people, animals, plants, etc.). In 1946 the North and South were united into one administrative region. The people in the South were unhappy about the change, as they felt that they were going to be subjected to an overwhelming northern political and Islamic religious system. It came to a head in 1956, when Britain granted independence to Sudan. What was known as the Anyanya Rebellion broke out and soon became a full Civil and lasted 17 long years. In 1962 John Garang tried to enlist in the resistance, but was turned as he was only 12 years old at the time. He continued his studies, and attended schools in Tanzania at the Magamba Secondary School. After his primary education, he received a scholarship and attended Grinnell College in Iowa, and later the University of Dar es Salaam. While at Dar es Salaam, he was part of a group known as the University Students African Revolutionary Front (USARF), which introduced him to many people and ideas about politics. A number of students who were involved in this organization later went on to become African politicians and leaders. When the Addis Ababa Agreement was signed in 1972 a cease fire was established, allowing the South to maintain a more autonomous region. It was then, at age 26, that he returned home and enlisted in the army with the rank of Captain.
In 1976 he married Rebecca Nyandeng, a fellow member of the Dinka tribe. John Garang adapted well to the military lifestyle and was sent to Ft. Benning, GA to further his military training. In 1978 he took leave and attended Iowa State University, obtaining a degree in Agricultural Economics. When he returned, he lectured for a while at the University of Khartoum, and quickly rose to the rank of Colonel, instructing military cadets.
In 1983 he was sent to stop a military rebellion in the city of Bor, situated on the bank of the White Nile River in southern Sudan. Here, John Garang met with the leader of the Bor rebellion, Lt. Colonel Kerubino Kuancin, but contrary to expectations, Garang joined the rebels and their cause. In fact, Garang had been part of a defection plan, opposing the military rule of Sudan and the Islamist leanings of the laws imposed on the Christian and Animist South. The Sudan People's Liberation Movement/Army (SPLM/A) was created and, given his military training, rank and leadership abilities, Garang soon became the leader of the SPLM/A and took command of a base just across the border in Ethiopia. This was the beginning of the second civil war, which is also known as Anyanya II.
The SPLM/A under Garang's leadership was fighting to created a new Sudan that would embrace all ethnicities and religions, ruled by representatives from each tribe and religious organization. Garang soon had control of most of Southern Sudan, and had received backing from the neighboring countries of Uganda, Libya, and Ethiopia. A setback occurred in 1991 when the Ethiopian government was overthrown, and the new government forced all the Sudanese associated with the SPLM/A out of Ethiopia.
Garang continued to fight for a new Sudan for 22 long years. In 2003, Garang met with Vice President Ali Osman Mohammed Taha, and together they crafted a peace agreement known as the CPA, or Comprehensive Peace Agreement. On January 09, 2005, the CPA between the Sudanese Government and the SPLM/A was signed in Nairobi, Kenya. The agreement made John Garang the 1st Vice President of Sudan under President Omar al-Bashir, with Ali Osman assuming the role as the 2nd Vice President. The peace agreement did more than that, it also split the oil deposits and left the North and South armies intact. On July 09, 2005, John Garang was sworn into the Vice Presidential office. Equitable power and representation in Sudan, if not exactly how Garang envisioned it, were better than ever; and peace had been achieved, but only after 22 years of violence and more than 2 million lives had been lost.
Three weeks after being sworn in as 1st Vice President, tragedy struck. Garang had evidently told his office that he was going to visit a settlement used as a SPLM/A headquarters, but he was instead in Uganda. While returning home, his helicopter crashed due to poor weather conditions. Details over his visit to Uganda and the resulting crash are, however, still a matter of debate. Garang's death resulted in a few outbursts of violence in the south, but ended quickly. Salva Kiir Mayardit, a general in the South Sudanese Army, replaced Garang as first Vice President. Mayardit appointed Garang's widow, Rebecca Nyandeng De Mabior, as the Minister of Roads and Transportation for Autonomous South Sudan, which she held for the duration of the peace agreement.
Towards the end of the six year peace treaty, a vote was held to determine whether the South should declare independence from the North. Not surprisingly, the vote for independence won out and was honored by the Sudanese government. The Republic of South Sudan became an independent nation on July 09, 2011, and Salva Kiir Mayardit was elected as the first President of South Sudan. Rebecca Nyandeng De Mabior serves as one of the presidential advisors. Dr. John Garang de Mabior is posthumously honored with his portrait on all denominations of banknotes issued in South Sudan.
Dr. John Garang de Mabior featured on the 25 Pound banknote of South Sudan.