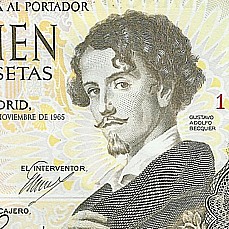 Born Gustavo Adolfo Domínguez Bastida, he would later adopt his Flemish father's last name, the painter José Domínguez Bécquer. He was the author of several short stories and works of poetry. His works were so influential, that he has come to be considered one of the most important historical people in Spanish literature.
One of eight children, he was born in Seville in February of 1836 and was orphaned at age 5 when his father died and again at age 11 upon his mothers death. He was then raised by his godmother and an uncle. He studied at the College of San Antonio Abad, and then studied seamanship at Sam Telmo School, where he began to write his first novel. The school was closed by the government due to a lack of funding before he finished. He then went to study art at the Cabral-Bejarano studio. Gustavo Bécquer wrote his first poem at age 12, in 1848, and was writing for newspapers by 1853. It was during this time that he became very close to his brother Valeriano.
His godmother wished for him to go into mercantilism, but Gustavo wanted to pursue his literary arts. So, finished with his studies in 1854, and against his godmothers will, he went to Madrid, which cost him his godmother's inheritance. In Madrid, he procured a position in the civil service, a job that did not last long, and he was let go for carelessness in his duties. It was after his dismissal that his artistic flare began to take hold, and he worked as a writer for several newspapers, theaters, and amateur opera houses as well as translating books into Spanish. He also held a governmental position as the 'Censor of Novels'. By 1858 he became sick and traveled to Soria and Veruela to return to health.
In 1859 and 1860, he wrote several of his Rimas (poems) and the Album of fashionable young ladies and couriers. It was in 1860, that he married Casta Esteban, which was a troubled marriage. After eight years and three children, Casta left Gustavo amid degrading health. His finances were not well, either, and the minister González Bravo agreed to finance the Rimas. However, the works were subsequently lost in the Revolution of 1868 when González Bravo's house was broken into and the manuscripts plundered.
In 1868 both Gustavo and Valeriano had separated from their wives, so Gustavo joined his brother Valeriano and settled in Toledo. While there, Gustavo was the editor of La Illustracion de Madrid. He was also able to work again on the Rimas, recalling most of the works from memory, and these poems were published in the Book of the Sparrows.
Gustavo's brother Vlaeriano died in September 1870, which caused Bécquer to descend into despair and lose more of his health. Three months later Gustavo Bécquer died on December 22nd of 1870 due to pneumonia and hepatitis. He was only 34 at the time, penniless, and only slightly well known for his literary works. He had many friends, however, and it was they who saw fit to help his surviving wife and children by posthumously publish his works after his death.
Gustavo Bécquer wrote in a post – romanticist style that was not as popular at the time as the realist style was in Spain. Though he enjoyed light popularity during his time, the majority of his works were published only after his death.
Gustavo Bécquer's poetic pieces were a new way of approaching the standard poems of the day and his style helped him to be known as the father of modern lyricism in Spain. His works are standard fare for many students, especially his Rimas Y Leyendas (Rhymes and Legends), perhaps his best known works.
His brother Valeriano Bécquer painted the portrait used on the Spanish 100 Pesetas banknote, first issued in 1965.
Rhyme XXIII by Gustavo Adolfo Bécquer:
Por una mirada, un mundo,
por una sonrisa, un cielo,
por un beso; ¡yo no sé
que te diera por un beso!
For a glance, the world,
for a smile, the heavens,
for a kiss; I don't know
what could I give you for a kiss!