Emile Gentil AKA Nice Emile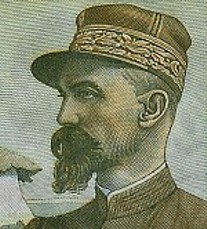 Emile Gentil was born on the 4th of April in 1866 at Volmunster in Moselle, France. In 1883, Emile Gentile attended the Naval Academy at Ecole Navale.  After receiving his commission, he joined the African Colonial Administration. And from 1890 – 1892 as an Ensign, he was assigned to make Hydrographic Soundings along the coast of Gabon. During 1895 – 1897 he led an expedition from French Congo down the River Chari (Shari) and into Lake Chad on November 1st, 1897, being the first European to reach Chad from the South.
On April 22nd, 1900, Emile Gentil took part in the Battle of Kousseri (Northern Cameroun). This important battle resulted in the defeat of Rabah, a lieutenant of the slave trafficker of Sudanese slaves, Az-Zubayr Rahma Mansur. This battle was in response to several local chieftains asking France to intercede with Rabah's raids to capture slaves. During this battle, Rabah was killed by a deserter from his army, who returned the head and right arm for a bounty. This victory also cemented a French objective of linking their possessions in West Africa.
In May of 1900, Emile Gentil established Fort Lamy (now N'Djamena) near Kotoko Village on the River Shari in honor of Commander Lamy who was killed in the Battle of Kousseri. On 5 February 1902  Emile Gentil was appointed Lieutenant Governor of the French Congo. He explored areas of Congo (Brazzaville), the Central African Republic, and Chad, helping the French to establish rule in Equatorial Africa.
In 1905 he was accused by the press of being too hostile with the Brazzaville natives, but he was cleared of charges. He thus remained at his post and created four districts in Africa: The Gabon, Means-Congo, Oubangui-chari (now Central African Republic), and Chad. From 1906-1907, Emile Gentile devoted his time to organizing the country's finances and developing commerce throughout the area. In 1908, Emile Gentile resigned his post and in the year  1910 he left Africa for good, and died on 30 March 1914 in Bordeaux, France. Port-Gentil, the second largest city in Gabon, is named after him.
Saint Pierre & Miquelon is a small Island off of Newfoundland, Canada. Measuring only 150 Square miles in area, this foggy, barren island is all that is left of Frances once mighty North American possessions. As a small French Possession, Saint Pierre and Miquelon used an overprinted Franc for the French Overseas Territories, this one featuring an African Vignette.