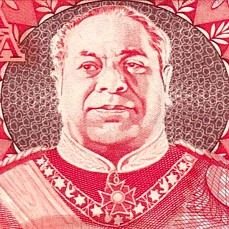 Tonga is the only Pacific nation not colonized by a Western power. Dating back to the 10th century, the Tongan dynasty is one of the longest reigning in the world. Tonga was first inhabited at least 3,000 years ago but the arrival of Polynesian settlers estimated at around 500 BC. According to legend, the first ruler of Tonga was the Tu'i Tonga, the son of the supreme god, Tangaloa, and of a young Tongan girl, Va'epopua.
Born on July 4th, 1918, Tongan King Taufa'ahau Tupou IV was the son of Queen Salote Tupou III  and Prince Consort Viliami Tungi Mailefihi. He ruled Tonga following his mother's death in 1965 until his own death in 2006. He was married to Queen Halaevalu Mata'aho 'Ahome'e, born in 1926. The eldest of his four children succeeded him as Siaosi George Tupou V. Due to an intricate lineage, Queen Salote Tupou III claimed that  Taufa'ahau Tupou IV was heir of all three of Tonga's royal lineages. She made this claim to put an end to instability and threats of civil war. Taufa'ahau Tupou IV's daughter, Pilolevu, however, was the first Tongan woman to actually have the blood of the three major royal dynasties and became the highest ranking person ever in Tonga.
His mother appointed him the Minister of Education in 1943 and in 1944 He was the Minister of Health. By 1949 he was made Premier. He was educated at Newington College, Sydney University and Wesley College in Australia. While in college, he was an avid sportsman and preacher. This was in stark contrast to his later years when, during the 1970's, he had been the heaviest monarch in the world, weighing over 440 pounds and standing at six feet – five inches in height. He made frequent trips to Germany, and because of his weight and height, the Germans would make especially sturdy chairs for him. Considering them gifts, Taufa'ahau Tupou IV would take the chairs back to Tonga with him. The king took part in a Tongan fitness program in the 1990's and he lost about one-third of his weight.
Tongan Government is aristocratic, with nobles holding 70% of the legislative assembly. Nevertheless, he had great authority and influence over the government. In the King's later years he was involved in an investment scandal with Jesse Bogdonoff, his court jester. This cast the king and the government process in a bad light, and there were calls for greater transparency in government. This led to several weeks of civil service strikes in 2005. Shortly before his death in 2006, a constitutional commission presented Taufa'ahau Tupou IV with a recommendation for constitutional reform.
On August 15, 2006 Radio and television broadcasts were interrupted by the Tongan Prime Minister Feleti Seyele, who announced that the King was seriously ill He asked the people of the Tongan island chain to pray for their king. Despite the prayers, King Taufa'ahau Tupou IV died almost a month later at age 88, on September 10th, 2006 at Mercy Hospital in Auckland. He had reigned for 41 years.
Taufa'ahau Tupou IV was buried on 19 September 2006 at the royal cemetery Mala'e in the Tongan Capital Nuku'alofa. Mourners included many foreign dignitaries, including Japanese Crown Prince Naruhito, New Zealand Prime Minister Helen Clark, Fijian Prime Minister Laisenia Qarase, Vanuatu president Kalkot Mataskelekele , the American Samoan governor Togiola Tulafona, Niue Premeir Vivian Young, and the English Duke of Gloucester, a cousin representing Queen Elizabeth II.