Luisa Cáceres de Arismendi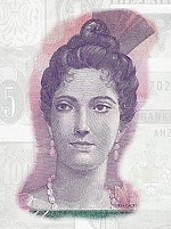 Luisa Caceres de Arismendi was the eldest daughter of Jose Domingo Caceres and Dona Carmen Diaz. Her father was a distinguished professor of Latin and he taught her to read and write and instilled in her the high moral standards which served her throughout her life. She had two younger brothers, Felix and Manuel. She was known for her beauty from an early age, and was brought up to fulfill the traditional duties of wife and mother.
The Venezuelan War of Independence was in full swing at this time, and her father and brothers were on the separatist's side. At this time Venezuela was part of New Grenada, and it was still a Spanish colony. The Royalist party, who wanted to remain allegiant to Spain, met her father Domingo and her brother Felix in the city of Ocumare on March 14th, 1814, and both were executed two days later. This event caused Luisa and her remaining family to flee to Margarita Island, the first Free State in Venezuela's independence war. In 1814, while still on Margarita Island, her hand in marriage was requested by Colonel Juan Batista Arismendi, whose first wife had died only the year before. They were married on December 4th, 1814, but the Colonel had to attend to his wartime duties on the continent, and left Luisa on Margarita Island. In September 1815 the Royalist forces tried to capture Colonel Arismendi, but he escaped to the mountainside with one of his sons. General Morillo captured Luisa and, knowing of her marriage to Colonel Arismendi, held her at the Santa Rosa Fortress in an effort to deter her husband from his post, and to get information from Luisa concerning her husband's activities. She was only 16 years old at this time.
The Spanish government was unsuccessful in their efforts to extract information, or to sway the Colonel from his duties. Luisa steadfastly refused to give any information concerning her husband to the Spanish authorities, and in a letter to General Morillo, Colonel Arismendi wrote that – if he had no homeland, he needed no wife.  Luisa was kept in the fortress long enough to give birth to a baby girl, who died during childbirth. After her infant's death, Luisa was transferred to two other prisons before being shipped with other political prisoners to Spain in December, 1816.
During the voyage, the ship Luisa was on was attacked by an American Navy corsair.  The American ship took all provisions and left the remaining passengers on the Azores island of Santa Maria. When she finally arrived in Spain, she was presented to the authorities, who offered her a deal: Freedom for retracting her revolutionary ideals in a public document. Luisa again refused their demands, holding fast to her family's dreams of independence. During her time away, New Grenada achieved its independence on June 1, 1816. With the aid of a friend, Francisco Carabano, and the English Government, she was eventually freed in 1818 and made her way back to Venezuela. When she arrived in Caracas, she was greeted with fanfare for her famed steadfastness to the ideals of liberty and independence.
On December 17, 1819 Venezuela was incorporated into the Republic of Grand Colombia, which included modern-day Panama, Colombia, Venezuela and Ecuador. Venezuela gained its independence on January 13, 1830, and the Republic of Venezuela was declared on October 24, 1830.
Luisa Caceres de Arismendi lived in Caracas until her death in 1866. Her remains have been interred in the National Pantheon in Caracas since 1876. Her portrait by Emilio Mauri is featured on the Venezuelan 20 Bolivares Fuerte banknote issued January 1st, 2008.
In March of 2007, Venezuela announced that their Bolivar would be redenominated at 1 to 1,000 and the name Bolivar Fuerte is intended to be used temporarily during the transition. An ad slogan used to promote the new currency states: "A strong economy, a strong Bolivar, a strong country."