1929 Fifty Dollars Federal Reserve Bank Note
Here is another example of a Federal Reserve Bank Note (FRBN) that was issued in 1933, with different over-stamps and signatures on the pre-printed 1929 National Banknotes. They were a form of emergency currency, used to bolster the Federal Reserve notes after the National Notes were no longer available. They were officially in use for only two years before they were removed from circulation by banks when they came in for transactions or deposit. These notes are distinct in several ways including their brown seals and serial numbers, the National Currency title at the top, the bold printed letters designating the Federal Reserve Branch, blacked out titles replaced with Federal Reserve titles, etc.
Similar to the National Banknotes, these Federal Reserve Banknotes were backed by the Federal Reserve Bank, but with an important distinction. While National Banknotes were backed by bonds from the National Banks, these FRBN's had the added clause of "Or Like Deposit of Other Securities" added to conform to actual backing practices for these notes.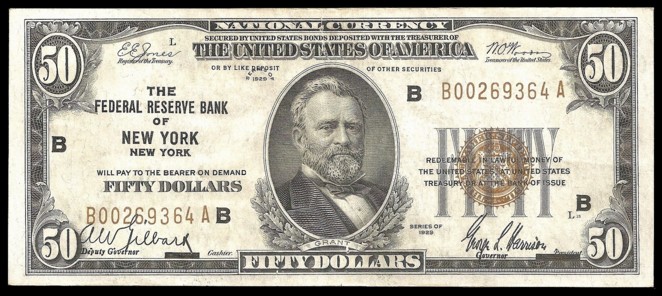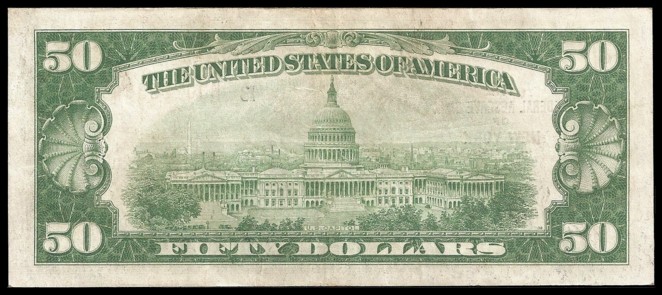 1990 Fifty Dollars Federal Reserve Note
The Fifty Dollar note is one of my favorites. It just seems to have a distinguished air to it. U.S. Grant, the Civil War General and later President of the United States is pictured on this note, and the U. S. Capitol is on the reverse, with a great scene of Washington D.C. in the vignette as well. This note was in print with only minor variations until 1996 when a major design change occurred.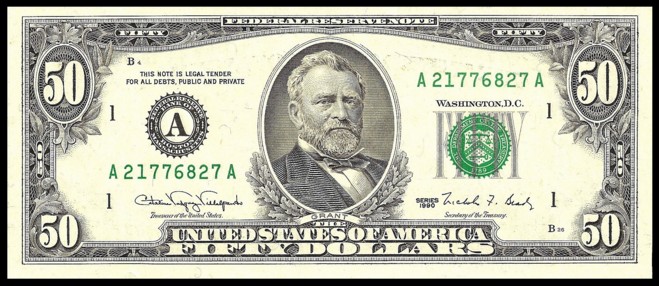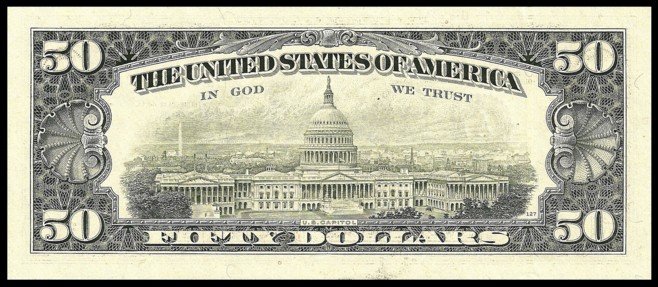 1994 Fifty Dollars Federal Reserve Note "Big Head"
This is the 50 Dollar Federal Reserve Note – a star note, which as we've read before is a replacement note for one which had a defect in the production process. This first one is a "Big Head" design which was introduced in 1996 and was printed through 2003. This new design was brought about to thwart counterfeiters.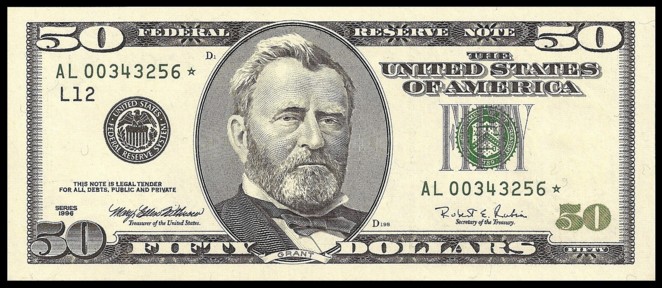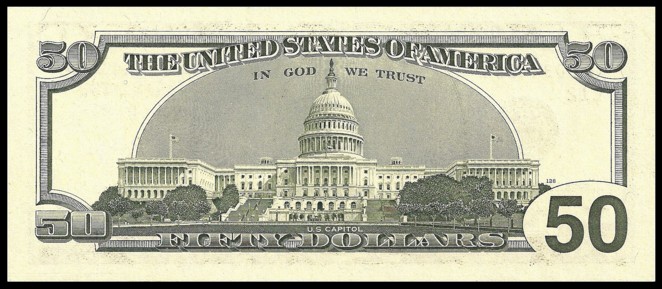 2004 Fifty Dollars Federal Reserve Note "Colorized"
In 2004 there was another design change. To me, this is a welcome change and provides a lot of eye appeal and presents American symbolism properly. U.S. Grant, a US Civil War general and later U.S. President has been featured on this note for many years, but with the introduction of color to the note, the designers thoughtfully placed the American flag behind him. It gives one a sense of his efforts to preserve the Union of the United States. I added it up and the front of the note has the denomination in numerical or printed form 7 times, while the reverse has the denomination a whopping 74 times. The larger number incorporates the Eurion security feature, those little yellow numbers, on the reverse. Without those little numbers there'd only be 5 denominations placed on the reverse.