Carson City Savings Bank, Carson, Nevada
After the opening of the famous US Mint in 1869, a need for banking in the area was apparent and the Carson City Savings Bank opened in 1875. It became the Bullion and Exchange Bank in 1882, and later, when mining began to taper off, it was changed to the State Bank and Trust Company in 1903. The bank eventually failed in 1907.
Carson City Savings Bank, Carson, Nevada. This Certificate of Deposit in United States Gold Coin. Coin dated April 14 1877. A $10 gold coin at right, with a Bald Eagle with globe and shield atleft. Serial #831. Printed by the Krebs Lith. Co. located in Cincinnati, Ohio. Back is endorsed by Reuel B. McMahon.
This type of banknote is a Certificate of Deposit, which could be held onto until redeemed at the bank for other type of money, most likely silver or gold coin in the 1870's, or transferred to another person. Most likely, given the larger sum, it was simply held onto until the owner redeemed it for another purpose. This particular note specifies that the value deposited was set at $200 in gold coin, but it would have been possible to redeem it in whole or in part in silver as well. The note in particular can be seen to have a missing border on the left, which is where a separate register would have been, and the rest of the note detached when issued to the depositor, R. B. McMahon.
Little is known about Reuel B. McMahon other than this banknote and the historical U.S. Census records. Ruel was born in 1843 in Eddington, Maine, and by 1870 he lived in Empire Township, Ormsby County, Nevada  and worked as a lumberman. In 1880 he was living in Carson City, and worked as a laborer. He had been married to a woman with the curious name of Sierra Nevada (written on the census) and had two children, Oscar and Arthur.
This banknote was issued and endorsed by George B. Hill, the banks cashier.  Unlike the banknotes owner, there is considerably more known about George B. Hill.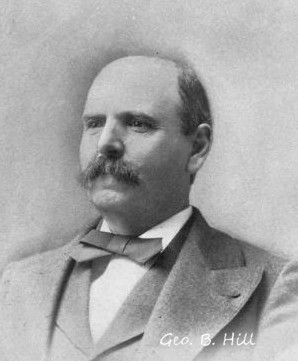 Also born in 1843, George Hill enlisted in the Seventy-sixth New York Volunteer Infantry in 1861, at the age of eighteen, and served in the Army of the Potomac. He fought twenty-two battles, including the battle 'Wilderness', which took place from May 5th through May 7th, 1864, when he received a wound in the right thigh. He was lucky. A rundown of the Union Army casualties from that battle included 117 officers killed and 2,144 enlisted were killed, with 372 officers and 8,413 enlisted (which included Hill) were wounded. A further 99, officers and 2,803 enlisted were unaccounted for and missing. After the Wilderness fight he was promoted as second lieutenant and quickly made first lieutenant.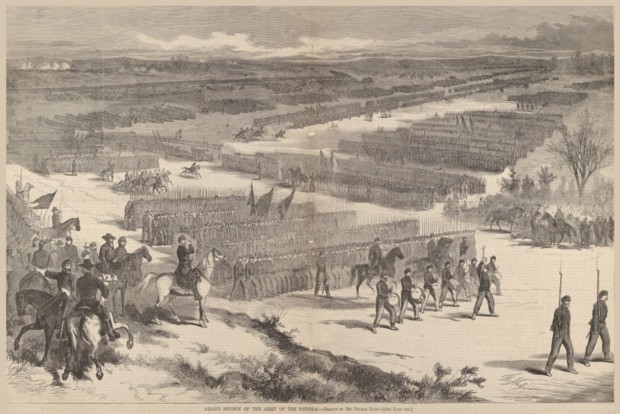 While this battle was the one in which he was promoted to an officer, there were even worse battles with more casualties taking their toll. During the battle at Gettysburg he was again wounded, being shot in his foot. At the end of the war, he was present at the Appomattox Court House on April 9, 1865 for the surrender of General Robert E. Lee to General U.S. Grant.
Honorably discharged from the army on July 4, 1865, he returned home to Cherry Valley, New York. In the spring of 1866 sailed to California and from there to Virginia City, Nevada, working for the city as a clerk.
On December 17, 1874, George married Elizabeth Wheeler, a daughter of M. W. Wheeler, a veteran of the Mexican war. George and Elizabeth had only one child, Grace Hill, who was born in 1876, and later attended the Michigan State Normal School in Ypsilanti, and became a school teacher.
In 1875 George organized what was known as the Carson City Savings Bank, of which for seven years he was cashier and later a general manager, signing several Certificate of Deposit banknotes that were issued to their customers.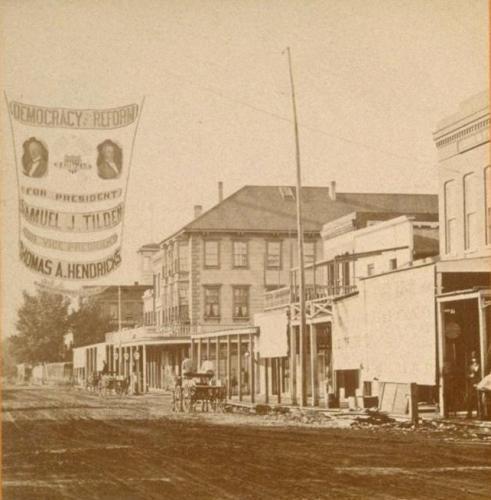 For unknown reasons, he and his family returned to California for a time, possibly for his wife's family. In the spring of 1887 they moved to Bellevue, Idaho and, in partnership with Colonel James W. Ballentine, opened a general store in the Wood River Valley. Colonel Ballentine had been a very successful businessman in mining and ranching and, after finding disagreement with the Republican Party, he helped to form the Populist Party. As a close friend and business associate, George Hill also became a Populist Party member. In 1892, Ballentine was elected as a member of the Idaho state legislature and in 1894 he ran, but lost, for the Idaho state governor. Meanwhile, George Hill was elected as mayor of Bellevue six consecutive times. In 1898 George Hill was also nominated by the Populist Party as their candidate for governor of Idaho, but he declined the nomination citing business concerns.  George Hill died in 1915, his wife surviving until 1925, his daughter until 1954.