Colonial Currency of the Original Thirteen Colonies
A Representation from each Colony
As an American collector of banknotes I naturally have a curiosity of this nations early paper money. I was, and am still, surprised at the prices of colonial and continental currency; Given their age and historical significance, these are, for the most part, abundantly available and surprisingly affordable. If you collect American Banknotes, such a piece of history should be in your collection, even if it is only one example.
Below is a sample of the the early days of American Paper Money – Colonial Notes from the Original 13 Colonies, and a couple of Continental issues at the end, as well.
From all the way back in 1773, this is a colonial issue from the state of Pennsylvania. This note is one of 28,300 notes issued on October 1st, 1773. It was printed by Hall & Sellers, who bought the printing business from Benjamin Franklin. The paper was printed with early counterfeiting technology including embedded flakes of mica, and blue fibers. Immediately noticeable though is the red ink incorporated into the top denomination on the front. There were several signers on these notes, of which one was done in red ink. This note's signers were Benjamin Morgan, William Fisher, Jr. (in red ink), and Barnaby Barnes.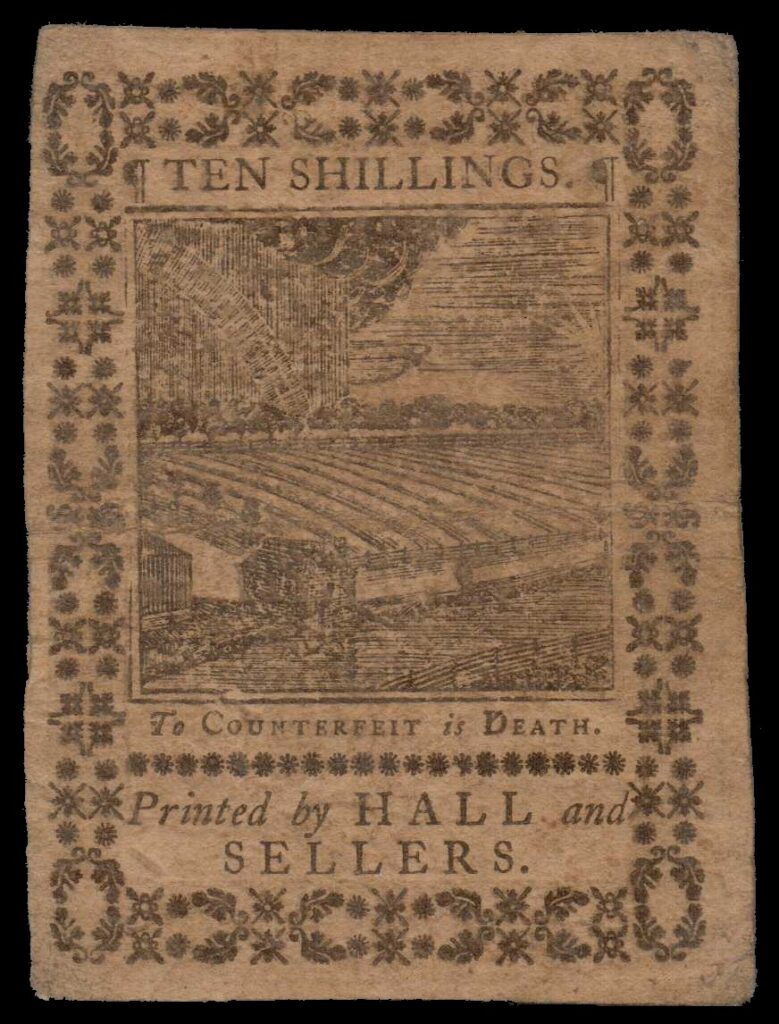 Issued on April 10, 1774, this is a colonial issue from the state of Maryland for Six Dollars. This note was printed by A.C. (Anne Catherine) and F. (Frederick) Green. The paper was printed with early counterfeiting technology including embedded flakes of mica, and blue fibers. There were 18,000 6 Dollar notes printed in this issue. This note was payable only after October 10, 1785 and before April 10, 1786. This is an Indented Bill, which is to say that it was cut with an indentation into the design to act as an anti-counterfeiting technique. The stub was retained with the serial number and as they were cut by hand, no two were likely to match up if counterfeited. This note was also a bill of credit, not a piece of Legal Tender. The difference is that these notes were authorized to pay for taxes and other treasury related expenses. This limitation was placed onto these notes because the Bank of England did not authorize the colonies to print money. However, the fact that these issued notes weren't strictly legal tender didn't mean that they didn't circulate – they did, but often with a heavy discount on the denomination.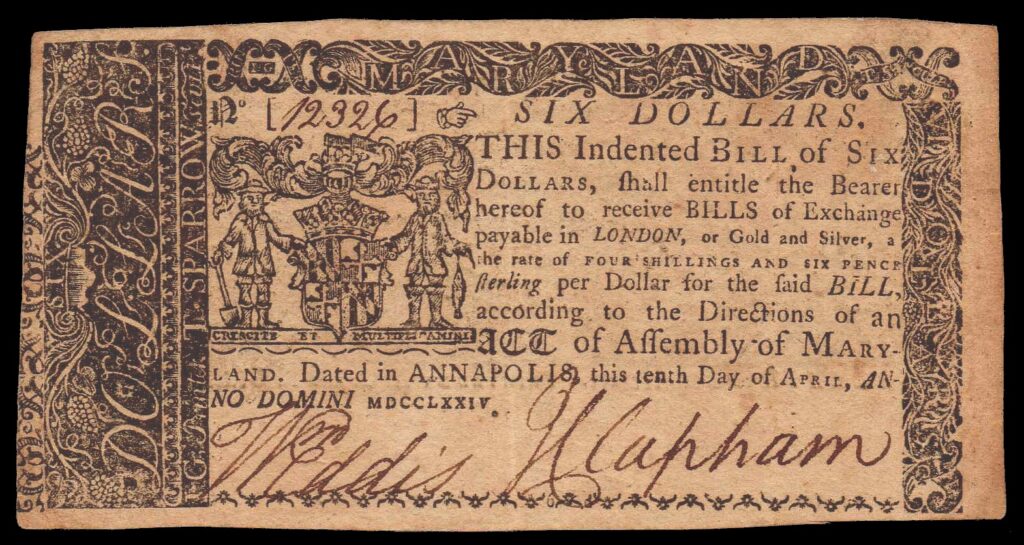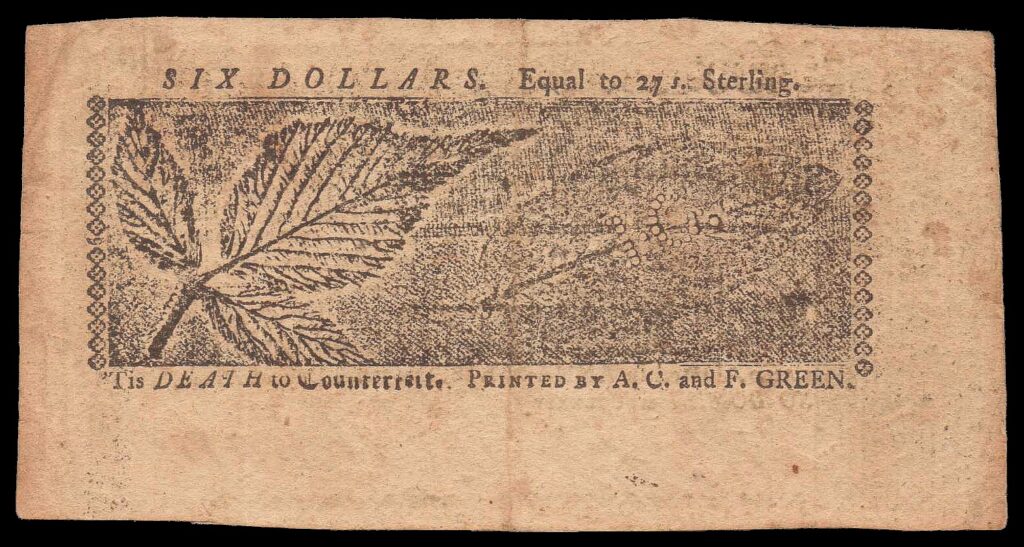 The next note is an 18 Pence issue from Delaware. There were 12,000 if these notes issued in January 1776, just 6 months before the signing of the Declaration of Independence. James Adams engraved the plates and also printed these notes on paper with blue fibers and mica flakes. James Adams, born in Ireland in 1730, had came to Philadelphia and worked with Ben Franklin at Franklin & Hall Printers until 1760. James then moved to Wilmington, Delaware and in 1761 set up Delaware's first printing shop. As the British neared Wilmington, James Adams relocated his printing shop to Doylestown, Pennsylvania, returning it to Wilmington, Delaware after the war was over, in 1788.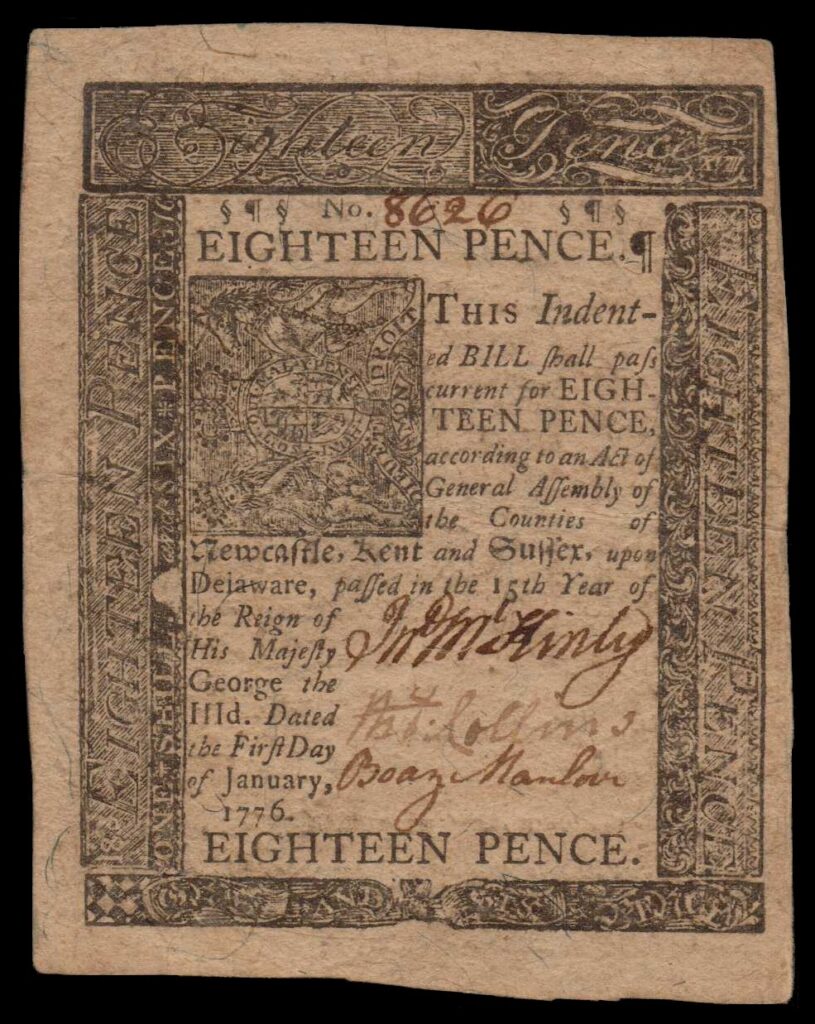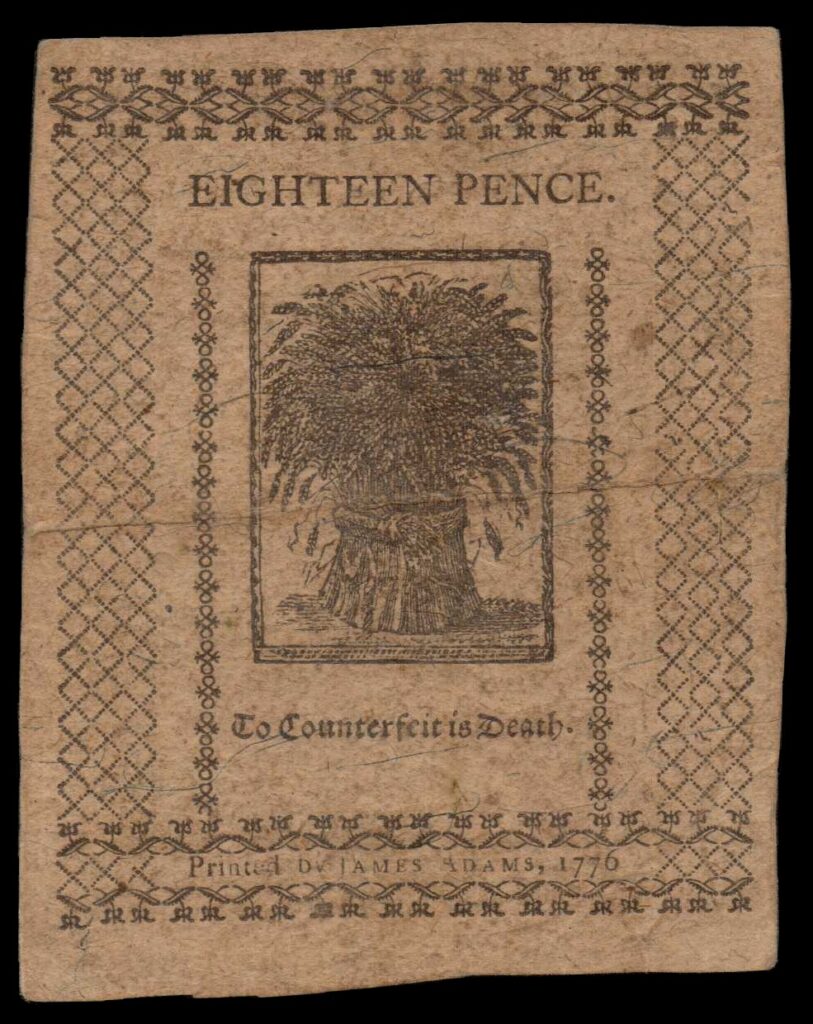 There were 2,600 notes of the Rhode Island 20 Dollars banknote issued. The face border and back borders were designed by Mr. Henry Dawkins, who prior to this job, was a counterfeiter for the British Crown. This note was signed by Adam Comstock and Metcalfe Bowler on the front. The signature on the back is a Guaranty signature of Jonathan Arnold. You will notice that this note is printed vertical on the reverse with red ink as a counterfeit deterrent.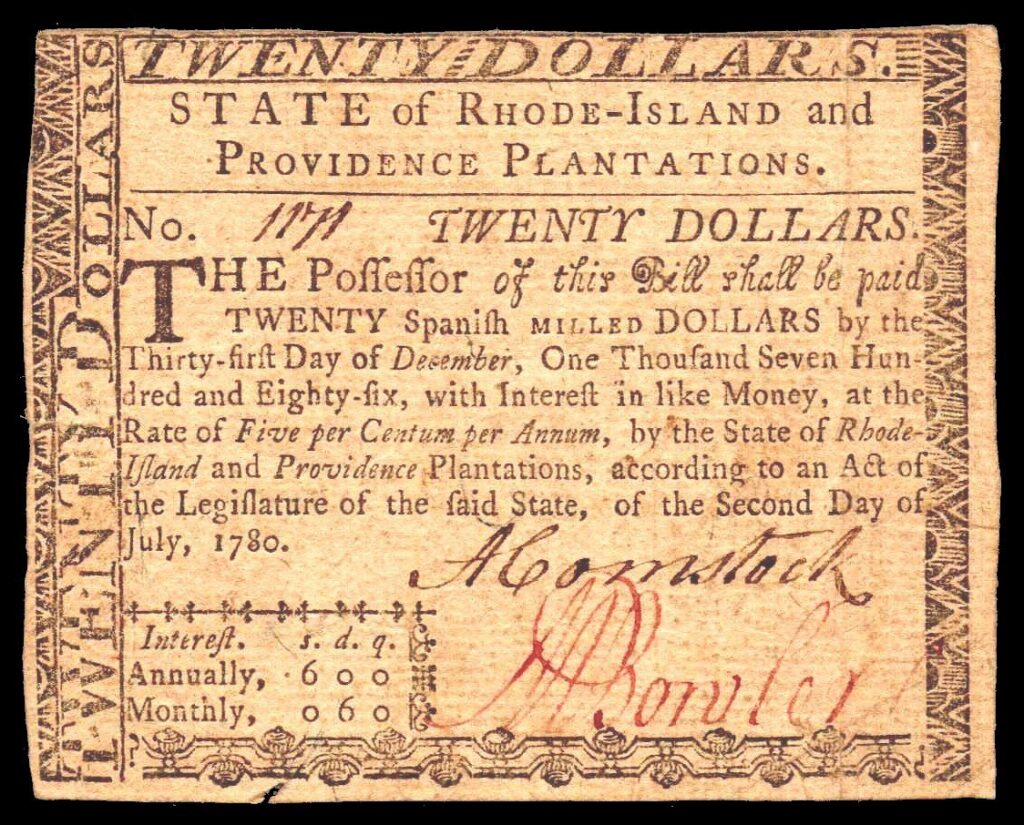 Authorized by an act in December 1771, this note was one of 10,000 1 Pound notes to be issued in the Colony of North Carolina. Along with other denominations being issued the combined total was 60,000 Pounds for this issue. The note is signed by Richard Caswell, Lewis De Rosset, John Harvey and John Rutherford.
The back of this note has a stamped name of I.ASHE (the capital letter I at the time actually stood for the letter J). This stamp is for John Ashe, who was the Treasurer of the Southern district of Colony of North Carolina.
The notes issued in this series each have a small vignette in the lower left corner. Each vignette corresponded to one of the ten different denominations that were issued by this act. This One Pound note features a bear in pose with the constellation Ursa Minor, which is also known as the Little Dipper. The last star of the bear's tail, or the dipper's handle, is of course the North Star.
Read More: North Carolina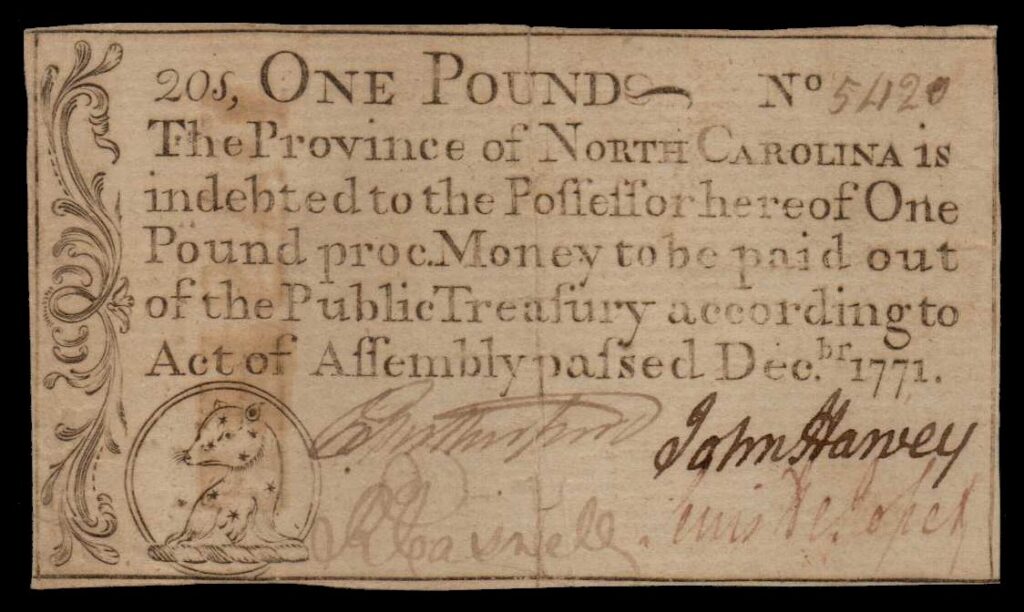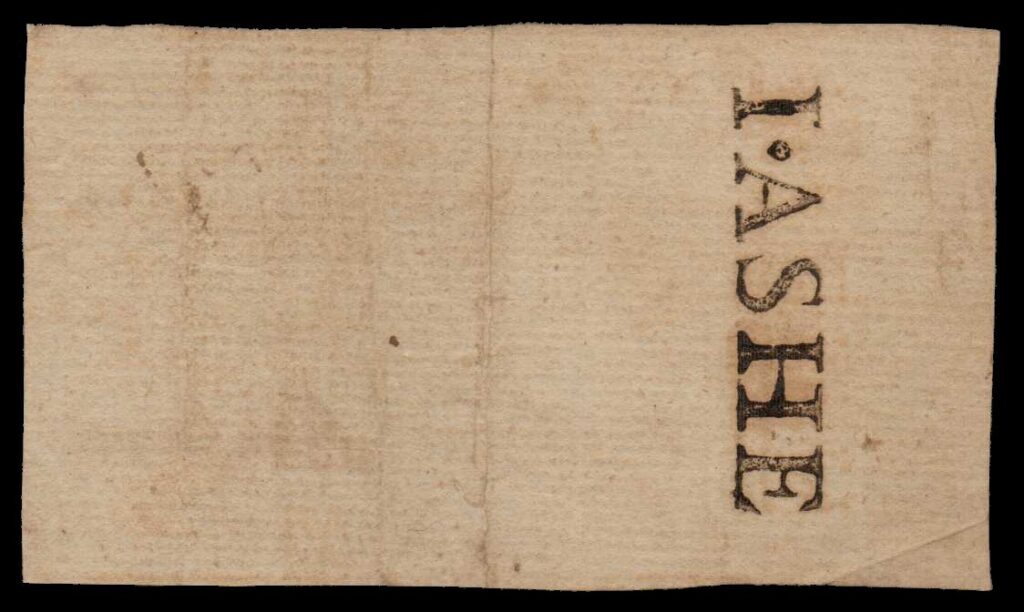 A total of 50,000 of these three shilling notes were issued in New Jersey with the issue date of March 25, 1776. These notes were issued with the watermark NEW JERSEY imprinted on them; On this particular note, the watermark is oriented upside down to the printed image. The signatures are of Rob Smith, Jonathan Johnston, and John Smythe. The capital letter B in the lower right corner is a printing plate letter, of which there were only A and B. The red ink is the most obvious deterrent to counterfeiting, as well as the paper having mica flakes imbedded into it.
The printer was Isaac Collins, who was born in Delaware but at age 24 he moved to Burlington, New Jersey, to take a position as Royal Printer. In addition to printing currency, he also printed the first newspaper in New Jersey, the "New Jersey Gazette", as well as the first "American Family Bible", also known as the Collins Bible.
Read More: New Jersey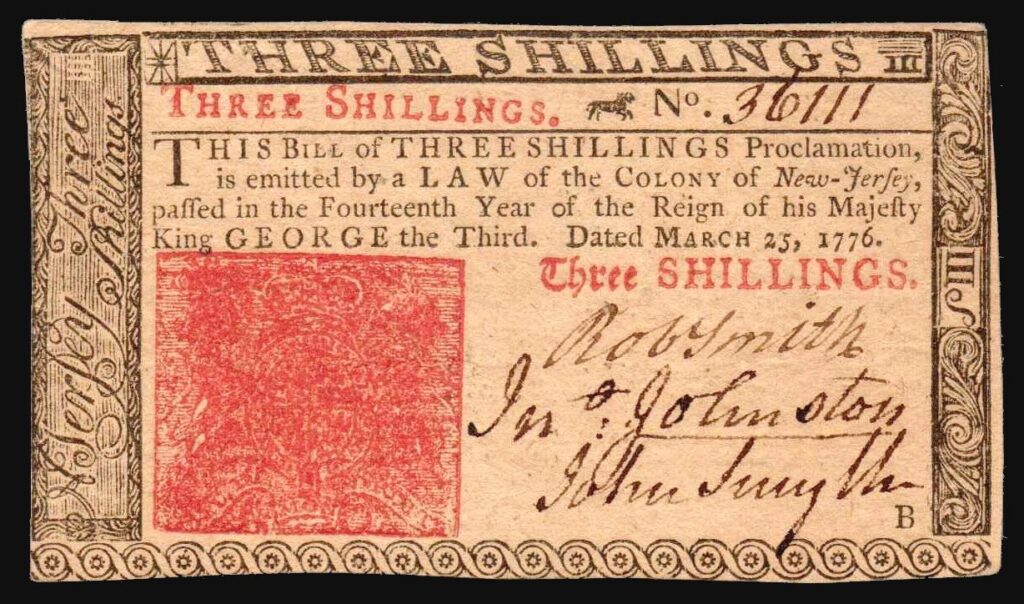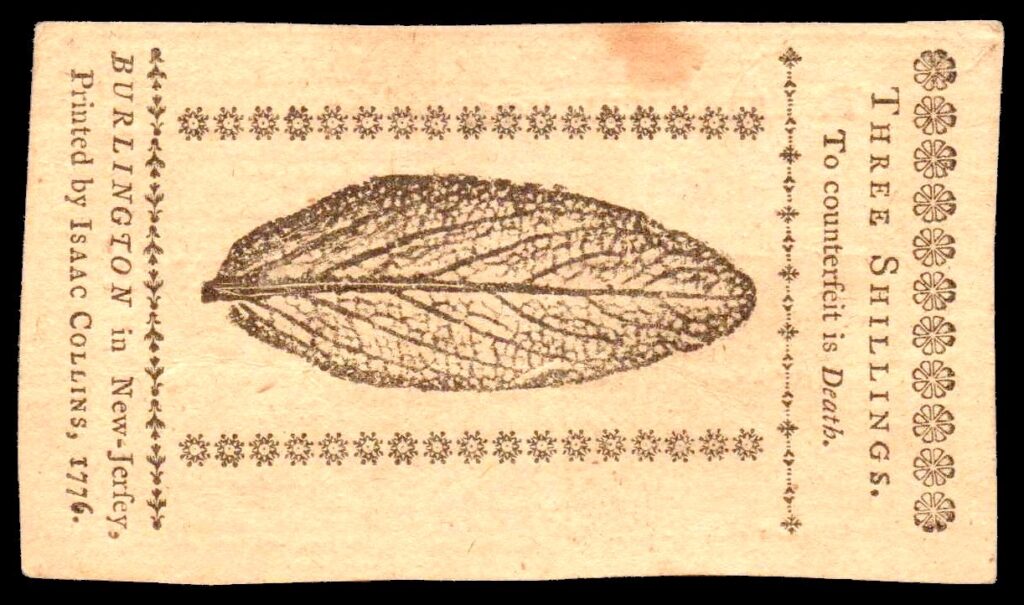 There were 21,000 of these 2 shilling 6 pence notes issued in this emmision of Connecticut notes. This particular note has a fading signature of George Wyllys, and a serial number of 11659. The back has an annotation reading "Registerd J. Porter, Compt." or, Registered, J. Porter Comptroller. This register means that the note was redeemed at some time during it's past – likely for coinage.
The reverse of the note is interesting as it has a vignette that has in the corners four faces on wings, giving this bill the look of a playing card.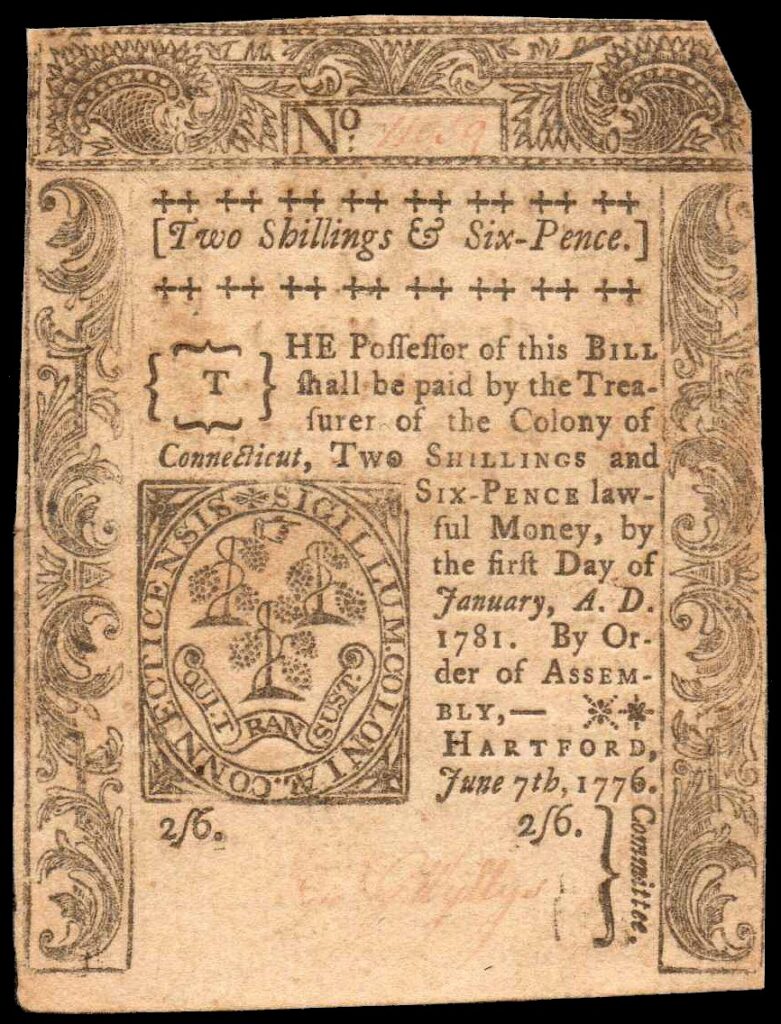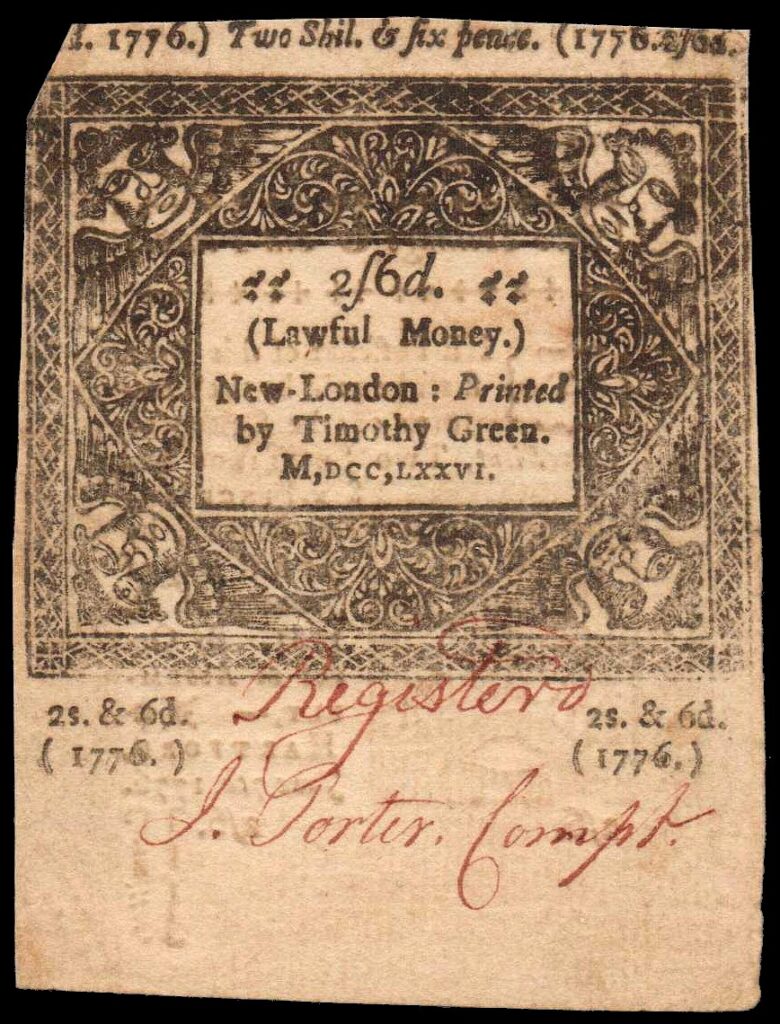 Samuel Loudon printed the following banknote from New York Colony. This note displays two values, 5 Shillings4 Pence, and then the value of Two-Thirds of a (Spanish Milled) Dollar. This note has an Eagle perched on the back with the motto "Fortis A Forte" best translated as "Strength from Strength". The signers of this particular banknote are Cornelius Ray and William Heyer.
Cornelius Ray was a merchant who later became the president of the New York Branch of the Bank of The United States when it was established. William Heyer served in the New York Militia as a Colonel. There were a total of 30,000 of these banknotes printed in 1776.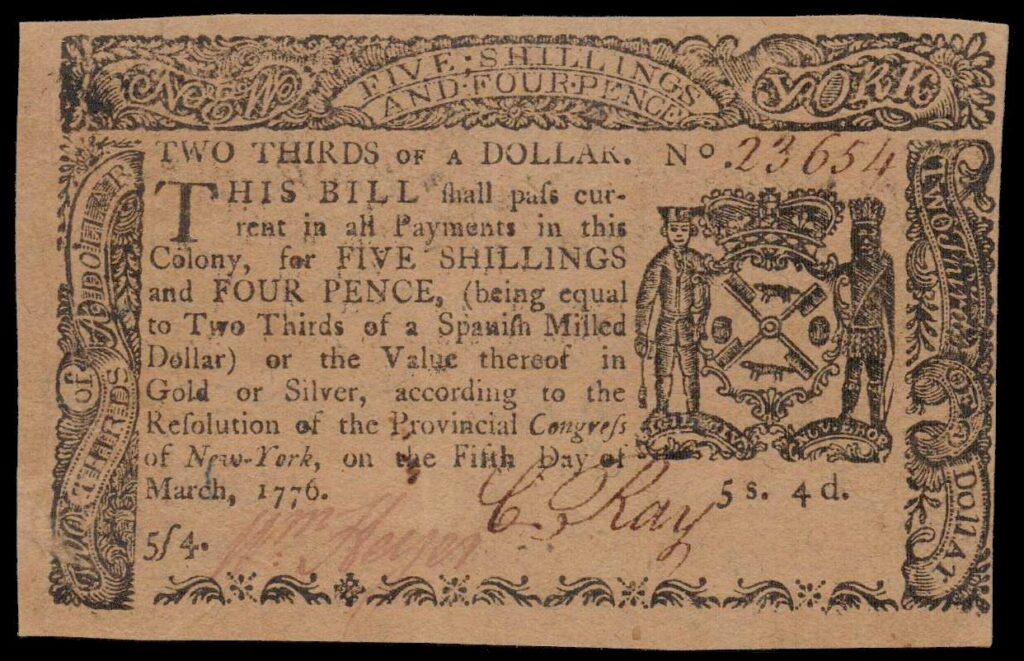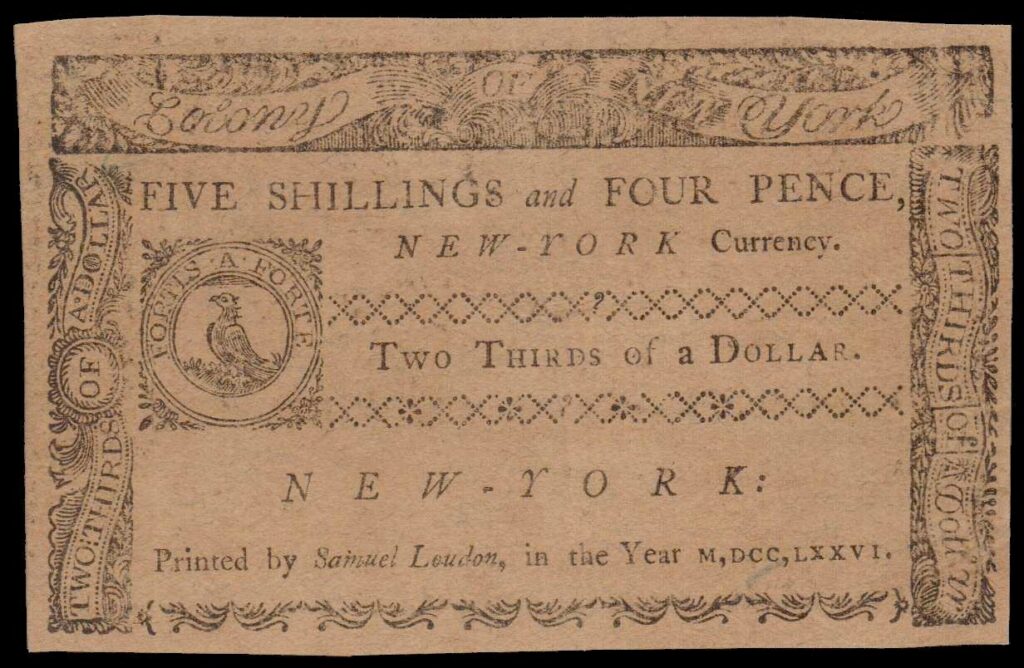 Before it's issuance on July 17, 1775, there was a need for a new design and different type of paper for a new issue of banknotes. This paper is made of what is called 'Heavy Rag Paper with blue fibers". The design was made by two gentlemen, William Waddill and Robert Scot. Both Waddill and Scot went on to become the first engravers for the United States Mint. This 3 Pound note is the largest denomination of this emission, and one of 11,094 Three Pound notes to be issued.
An interesting aspect of this note is that it is denominated in three different methods. The main value is Three Pounds, but it also states that it is worth Twelve Crowns, and again that it is worth Sixty Shillings. This note is signed by Philip Johnson and William Norvell.
When you stop to consider that, in 1775, the average wage for general labor in construction, farming operators, etc. was approximately 10-cents a day, you can see how much this three pound note was worth. Adjusted for inflation and exchange rates, three pounds in 1774 was worth $94.00 in 2011. (Economic information obtained from a paper by Peter H. Lindert and Jeffrey G. Williamson titled "American Incomes 1774-1860")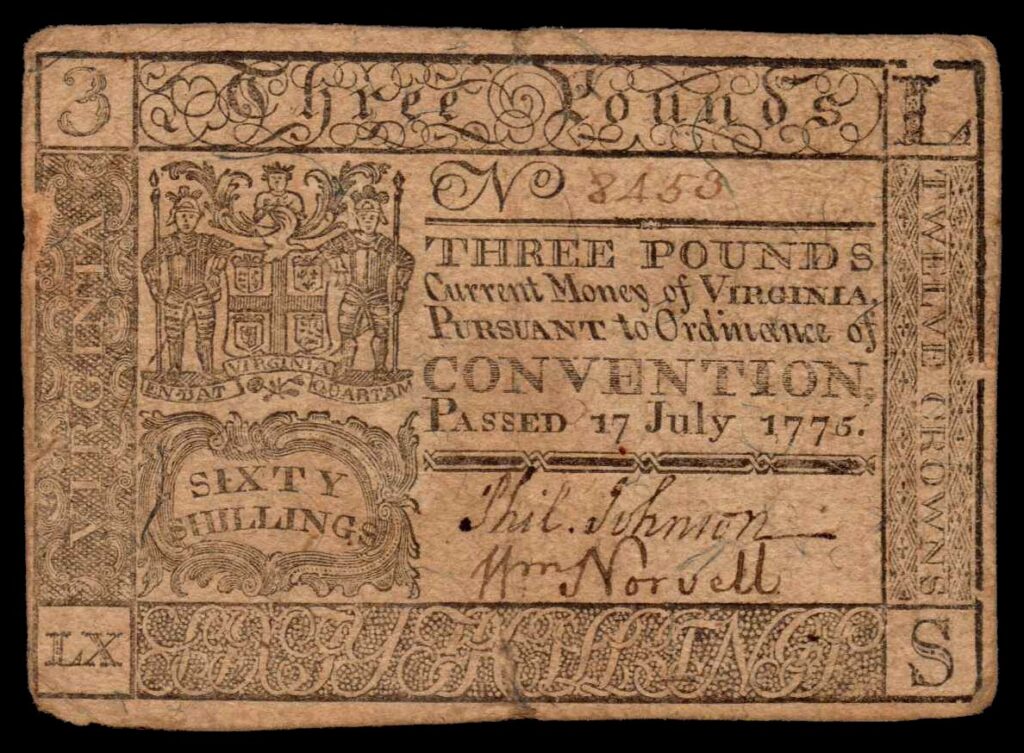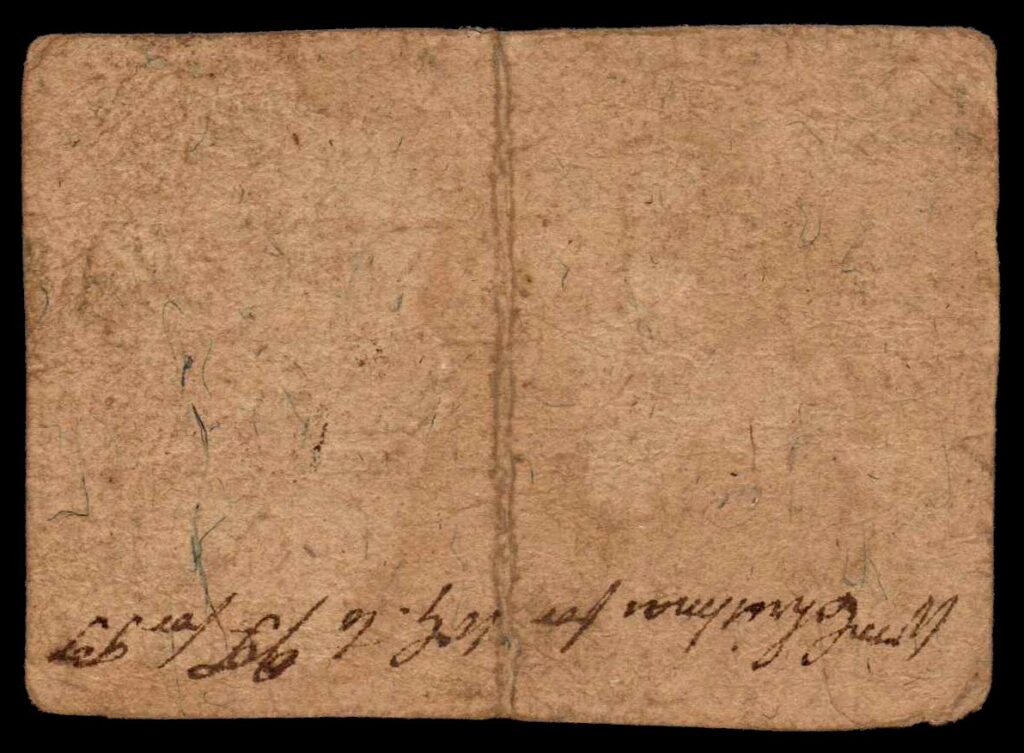 An act passed on May 05, 1780 authorized the issuance of this Massachusetts 20 Dollar note. This note was printed by Hall and Sellers, and was engraved by Henry Dawkins. The paper is watermarked with the words United States. The reverse has red ink in the design of an eagle attacking a snake, and red ink is also the middle of the words United States printed on the back. The red stamp on the front of this note reads "Interest Paid One Year", but is not on every note issued. The two signatures on the front are of Richard Cranch and Thomas Dawes. The signature on the reverse is the "Guaranty Signature" and is of Thomas Walley.
There were 26,267 of each denomination, including these 20 dollar notes, were issued, for a total of 1,313,333 Spanish Milled Dollars. This 20 dollar note is genuine, but the denomination was counterfeited by the Tories. Counterfeit notes were detectable by the letter "N" in the abbreviation "No." for the serial number: the counterfeit would have a slanted, or italicized, letter N. The counterfeits of this note come with an irony that is unique. you see, the engraver of the boarder and back pieces of this note had earlier been imprisoned for forgery of banknotes. He had received a pardon, and was granted a special contract to do so, in large part for his revealing a plot against George Washington by his fellow prisoners.
Read More: Massachusetts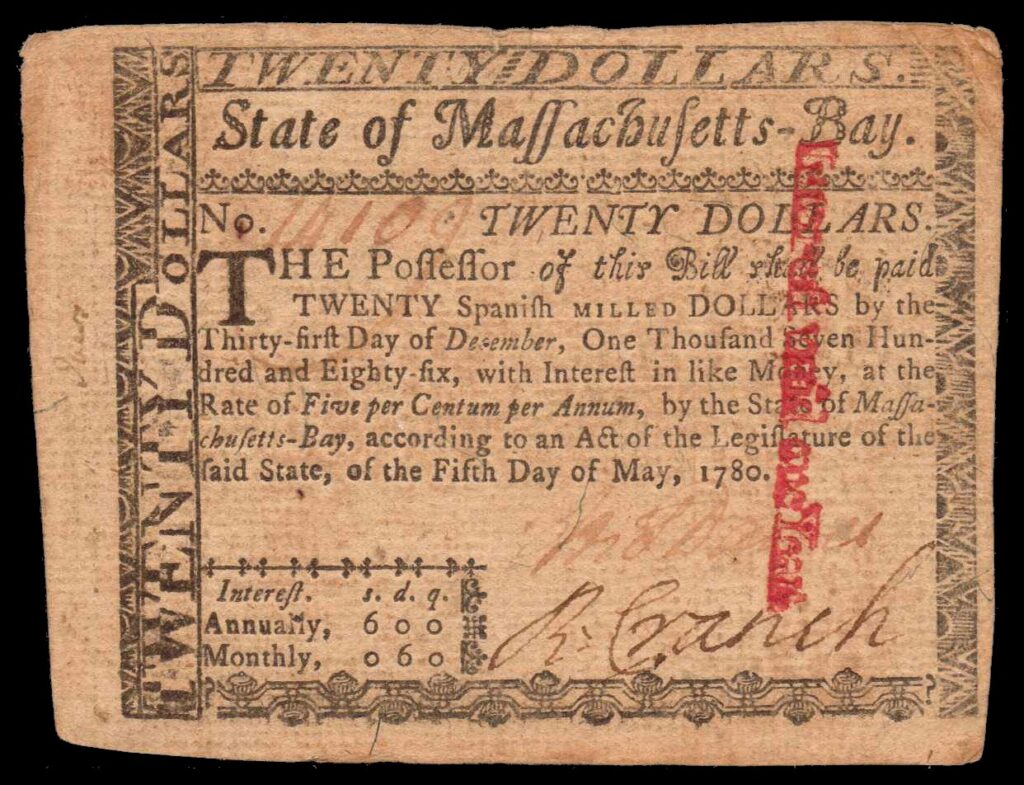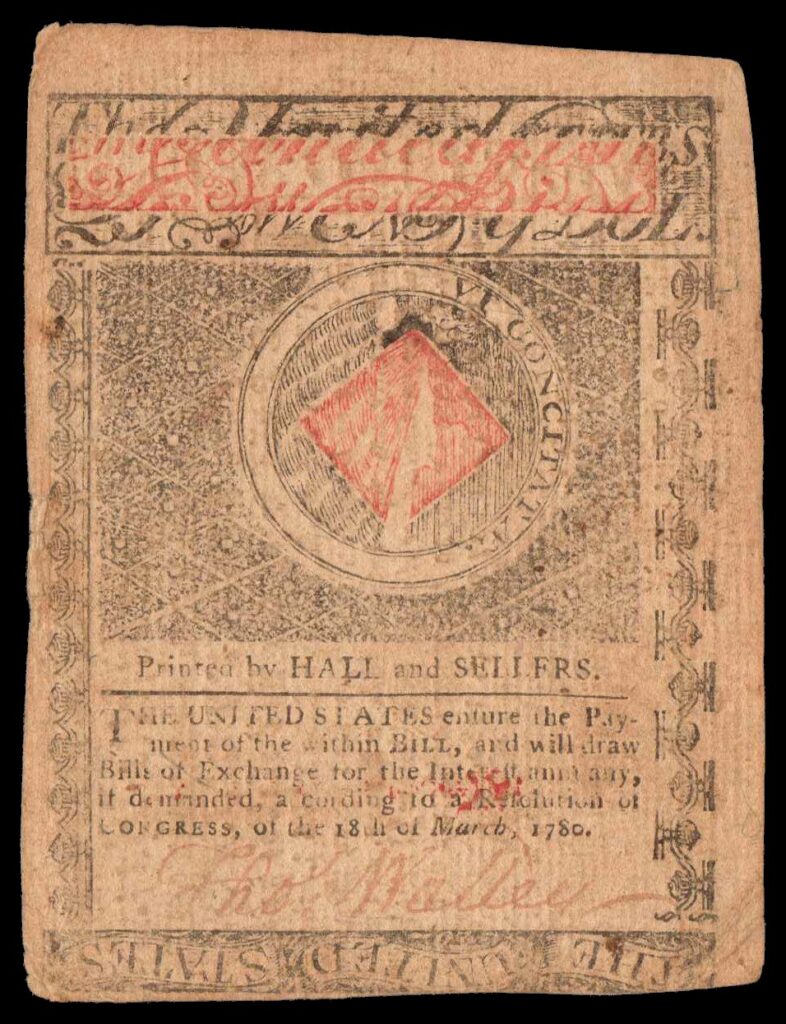 In April 1778, this note was issued after the South Carolina General Assembly passed the order to print an additional 100,000 pounds in currency. 30,000 notes of this 2 shillings-6 pence denomination were issued, the smallest denomination in this series. The signers were William Mathews and Henry Crouch.
Little is known about William Mathews other than he was born about 1755 in South Carolina and died 11-28-1819 in Oglethorpe County, Georgia. 
Henry Crouch was a well connected businessman in Charleston, South Carolina, whose contemporaries were several members of Congress, including Samuel Adams. Henry Crouch was imprisoned on a British Ship, the 'Sandwich', from November 15,1780 to December 31, 1781. He died in Charleston in 1783.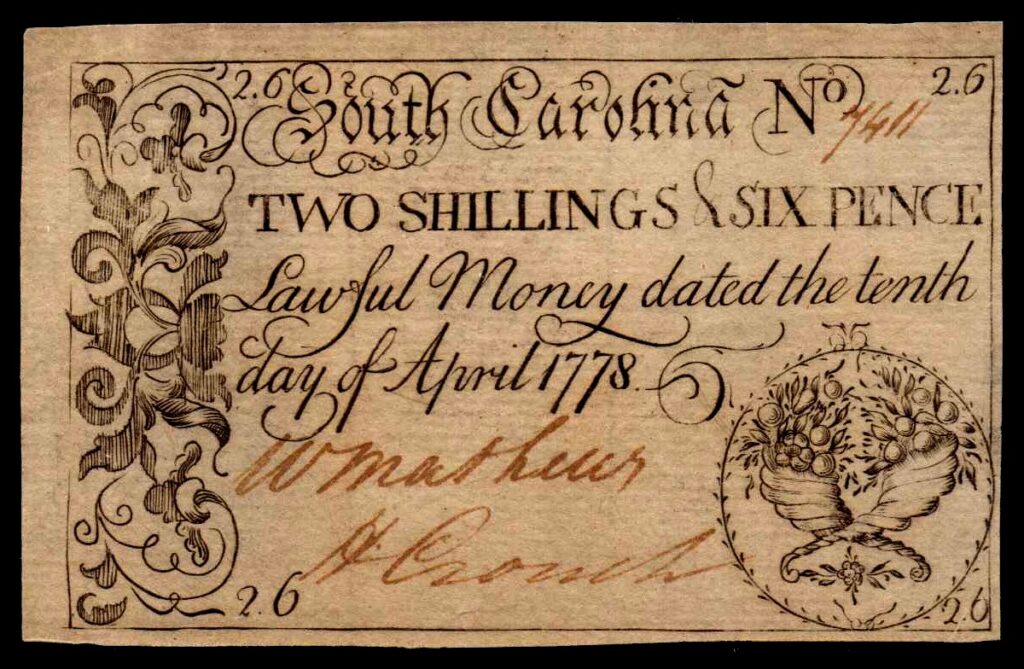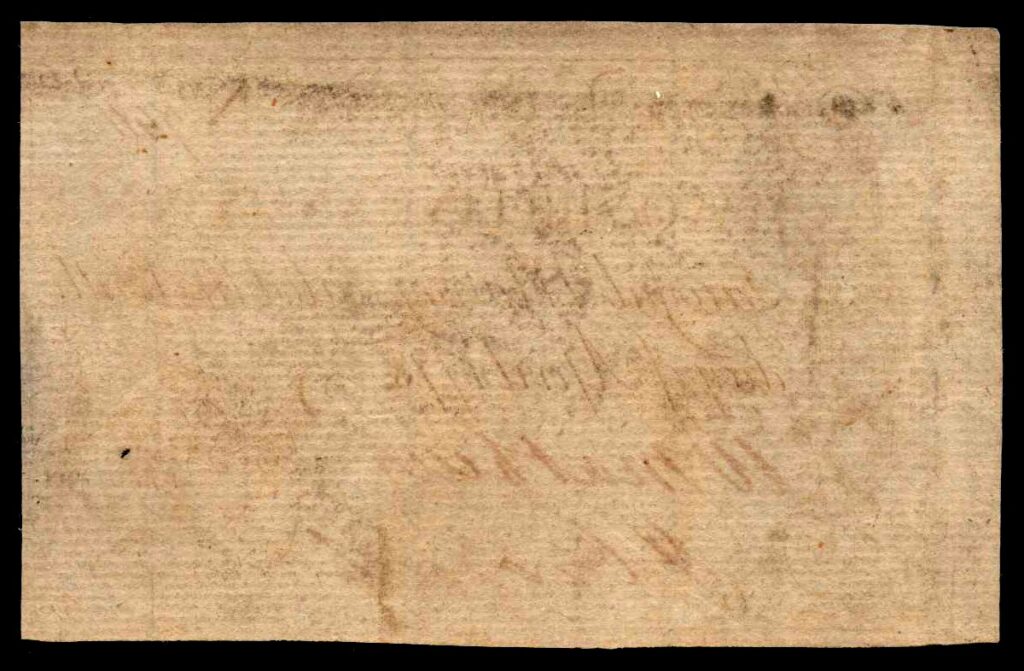 The next note was issued by Georgia in 1777. The denomination is 3 Spanish Milled Dollars, which was the base currency at the time, and much preferred throughout the world for its reliable weight, abundance and reliable acceptance by all. This denomination and redemption is enhanced on this particular note by printing it in red ink. The border of this note used the same borders that were used on the 1776 issued 1 dollar note.
The five signers of this note were:
Benjamin Andrew
Thomas Stone
Samuel Saltus
William O'Bryen
Nehemiah Wade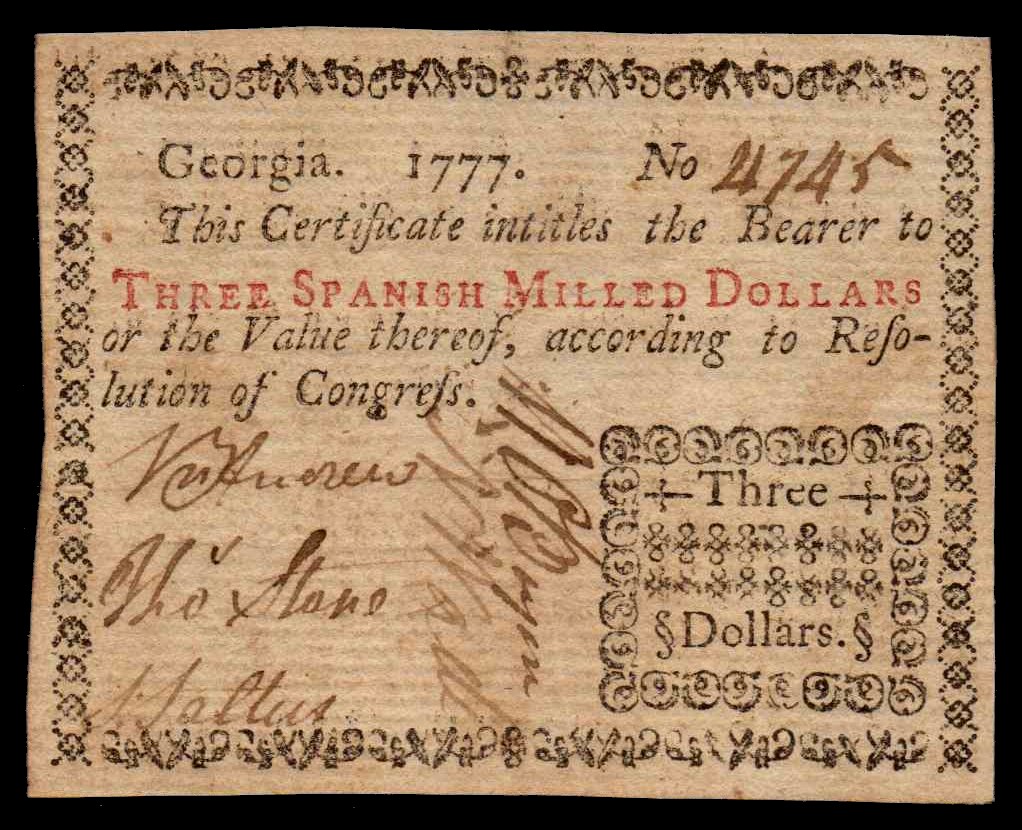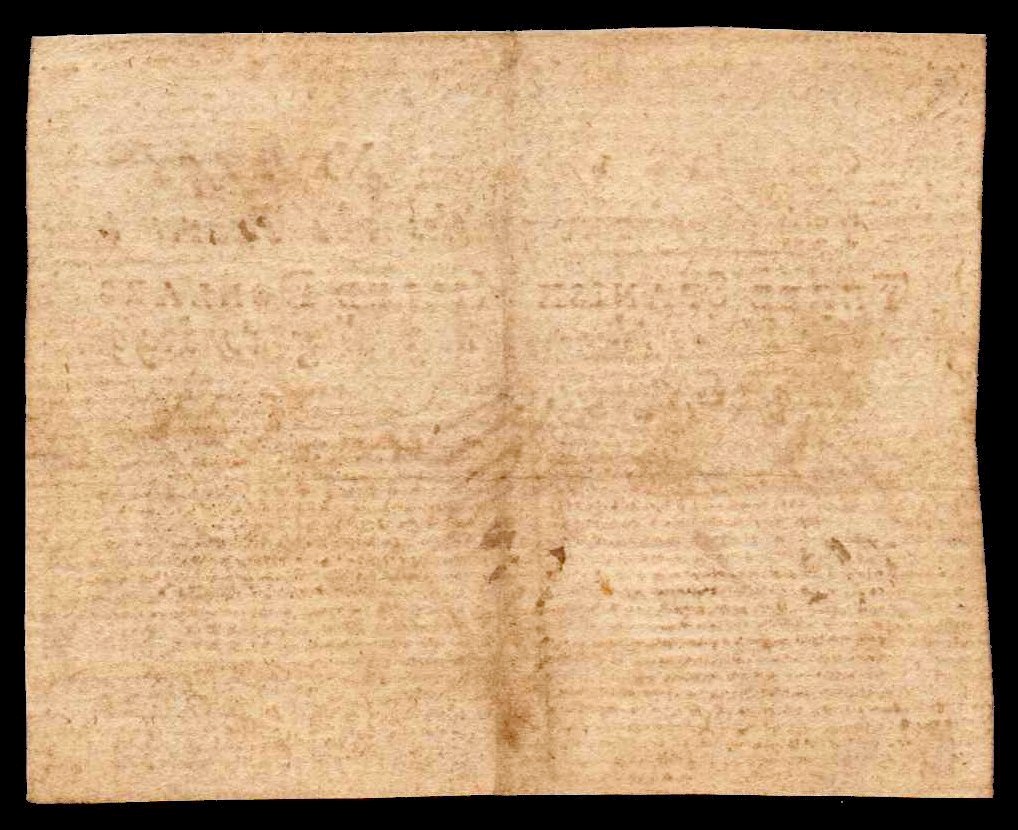 This last note was issued by new Hampshire in 1776. The denomination is 1 Shilling. There were 6,000 notes issued and is signed by E. Thompson. New Hampshire notes are much more scarce than the other colonies, and can be a bit of a challenge to find without a large cancellation hole in the middle of it. New Hampshire was indeed the toughest note to fill in this set of the 13 colonies.
Ebenezer Thompson, Esq. was a native of Durham, NH and was many time representative, clerk of the house and senate, secretary of state, councilor, repeatedly a member of the committee of safety 1775-1781, justice of the superior court, and a delegate to congress. He died in August 1802, at age 65.
Read More: New Hampshire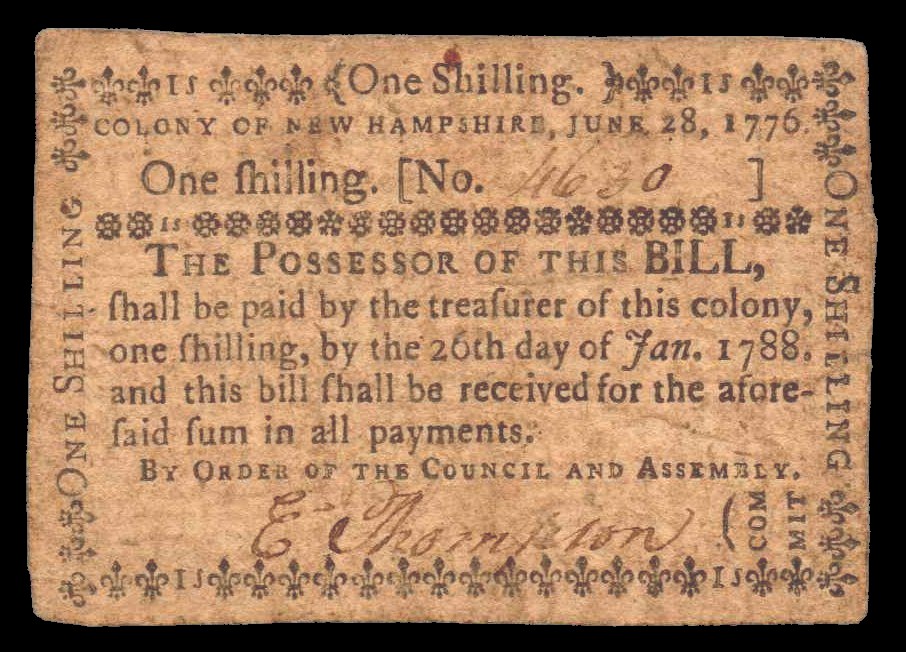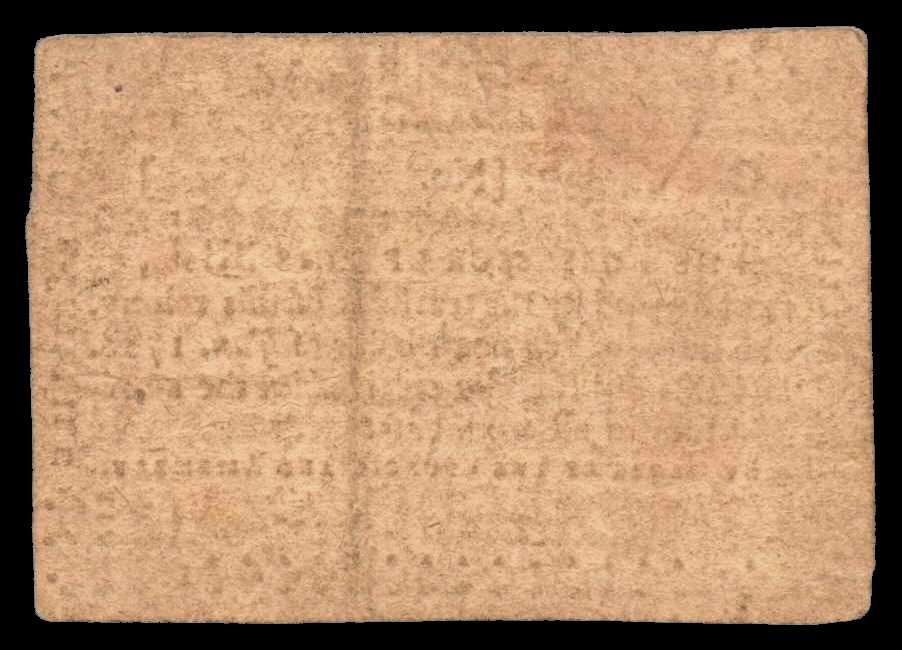 Colonial Currency circulated even when Continental Currency started to be supplied to the populace. As early as May 10, 1775 Continental Currency was authorized and soon printed and in the hands of the American public. As the Revolution went on, more and more were issued. Too many, in fact, and the currency was soon subject to inflation and the term "Worthless as a Continental Dollar" was a common saying; a hard, but necessary lesson for the fledgling nation.
Below is a continental 5 Dollar banknote – actually worth "Five Spanish Milled Dollars, or the value thereof in gold or silver". Issued under a resolution passed in September 26, 1778, for an emission of $75, 001, 080 in continental currency, they initially passed for just 22% of the specie value when issued.
Printed by Hall & Sellers in Pennsylvania, the front of the note shows an image of a hand, bleeding from being pricked by a thorns while gathering food. The Motto "SUSTINE VEL ABSTINE", Latin for "Sustain or Abstain". The borders read Continental Currency and The United States. The reverse of the note is a printing of two willow leaves which were used as an anti-counterfeiting process developed by Ben Franklin.
This note is signed by Cornelius Comegys and Joseph (aka Joshua) Coit.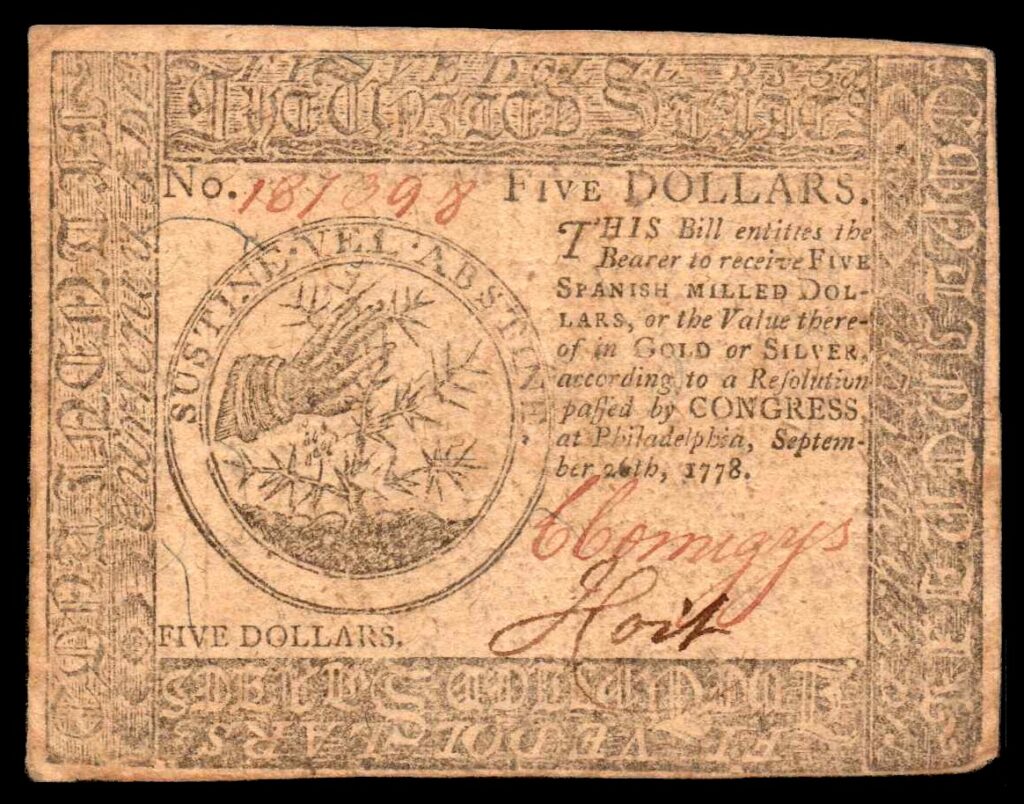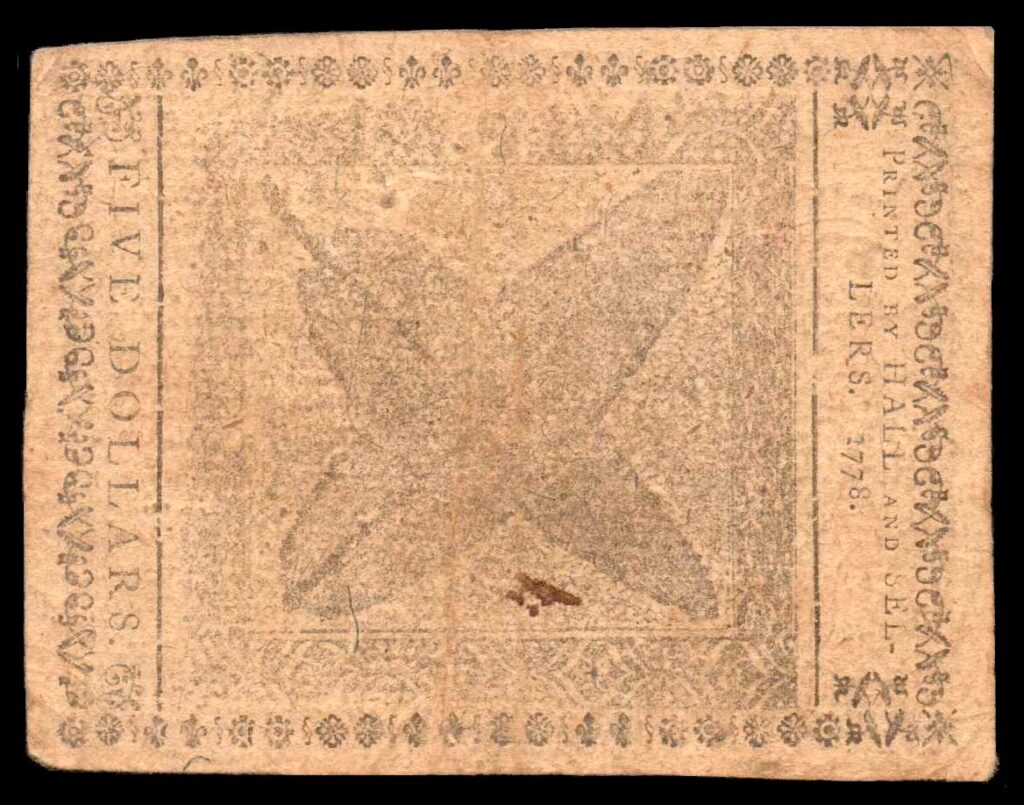 The next note was also Printed by Hall & Sellers in Pennsylvania, and is from the same emission as the previous note. The front shows the "All Seing Eye of Providence", or "God's Eye", as it looks down upon 13 stars. Unlike the present five-pointed stars representing the United States, these stars each have eight-points. A box with what appears to be a flame sits in the middle of the image, while rays from the eye 'shine' down. The bottom of the image has a rounded banner reading "CONFEDERATION" in capital letters. The reverse of the note is a printing of carrot leaves which were used as an anti-counterfeiting process developed by Ben Franklin.
This note is signed by Joseph Ker (aka Kerr) and Joseph Watkins, Jr.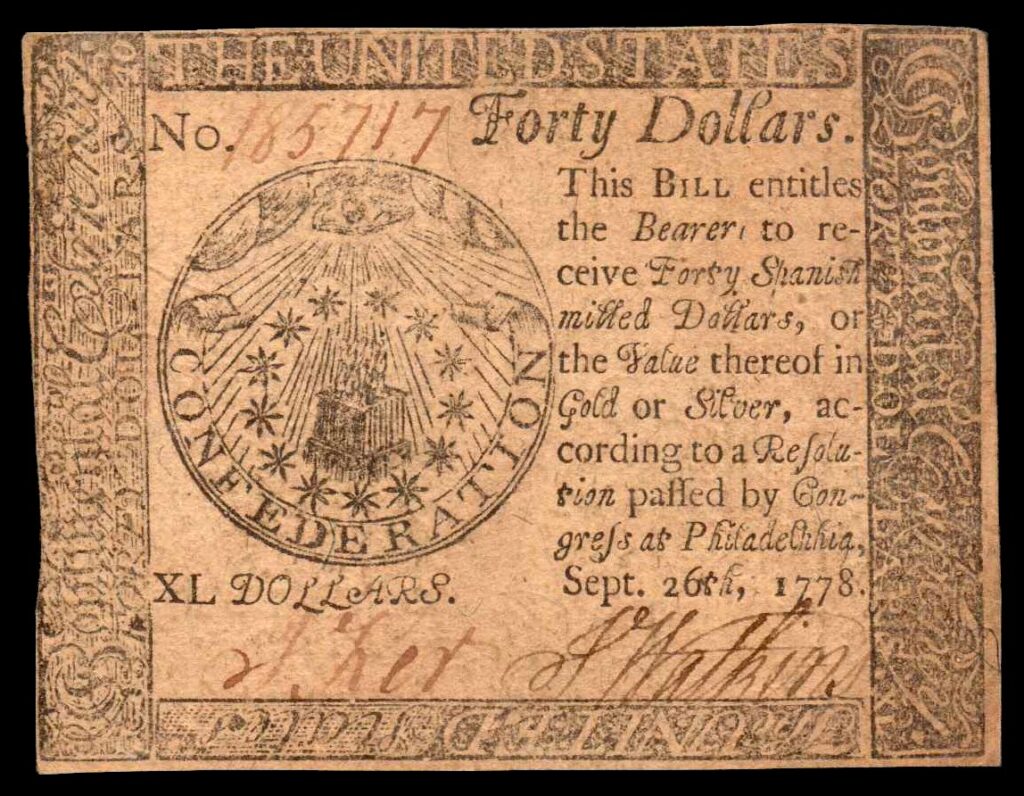 After the demise of Continental Currency, states and individual banks tried their hand at issuing paper money. Known as Wildcat Banknotes, they became known as Broken Banknotes because, like the Continentals, they too went bust. It took some time, but the United States eventually figured out a way to print banknotes that would stand the test of time.